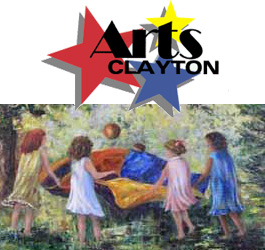 Visit metro-Atlanta fine arts centers, galleries, museums, historic sites, etc. Great for everyone. These places are free, but some ask for a small donation.
Click on places to visit names in

light blue color

for more info.
Fine Arts Centers & Galleries
Arts Clayton Gallery - Displays original art by Georgia artists and four murals depicting life in Jonesboro adorn the side of the building. Open Tues - Fri 9am to 5pm, Sat 10am - 4pm.

Free admission to gallery.

Located in Clayton Georgia.

Clark Atlanta University Art Gallery is home to a historical collection of African-American art and the illustrious murals by Hale Woodruff.

Open:

Tues - Fri at 11 am - 4 pm.

Free admission, but donations accepted.

Located in Atlanta, Georgia.

Cultural Arts Center of Douglasville hosts concerts, festivals, events and other cultural activities, including Monthly artists' receptions, monthly exhibits and special programs.

Admission is Free for self-guided tours.

In Douglasville, GA

Anne Frank Exhibit Museum - This powerful, moving 600-photograph exhibit tells the story of young Anne Frank and explores lessons of the Holocaust and its relevance today.

Free admission.

Located in Sandy Springs GA
Museums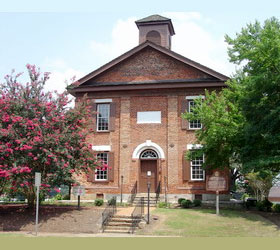 Coweta County African-American Heritage Museum

- The first black museum of Coweta County provides a repository for African-American artifacts and records while also serving as a genealogy workroom for African-American research. Adjacent to the museum, which is housed in a restored shotgun-style house, is the Farmer Street Cemetery which may be the largest slave cemetery in the South. This cemetery was a 19th and 20th century burial ground for African-Americans in Coweta County.

Amenities

: public restrooms and accessibility for mobility-impared.

Free parking and admission, but donations accepted.

Open Wednesday at 10am-4pm and Saturday at 12noon at 6pm.

Phone:

770-304-9111 -

Address

: 92 Farmer St., Newnan, GA 30263 - Visit this website before driving to this museum.



Douglas County Museum of History and Art

- When the new courthouse was opened in 1998, the old courthouse was declared "surplus" and slated for sale and disposal. The Old Courthouse now houses the Douglas County Museum of History and Art. There are rotating exhibits of mid-20th Century (to reflect the 1956 date of the Courthouse) private collections including a display of cocktail shakers, school lunch boxes, children's phonographs and items from a personal collection of Coca Cola articles.The Old Douglas County Courthouse is now listed on the National Register of Historic Places due to its unique architecture, the international style building, of which few examples remain. The Douglas County Museum of History and Art is much larger than many people realize. Museum by the NUMBERS: 12 Exhibit Rooms plus the large Courtroom plus the conference room plus the Gift Shop plus the Gallery plus the Visitor Information Center! The hours are Tuesday through Friday at 10am to 5pm and Saturday at 10am to 3pm. The last tour beginning no later than one hour before closing time.

Amenities

: parking, public restrooms and accessibility for mobility-impared. Call to arrange tours.

Free admission and parking.

Phone

: 678-449-3939 -

Address

: 6754 Broad St., Douglasville Georgia

Federal Reserve Bank of Atlanta Visitors Center and Monetary Museum - Explore the Federal Reserve's role in the economy through interactive exhibits. Tour the cash and check operations overlooks.

Free admission.

Call to reserve tours for groups of 10 or more. In Atlanta, GA

Georgia State Capitol and Museum - Experience the history of the Capitol by viewing artifacts, historic flags, artwork and a short film. Open Mon-Fri 8 am to 5 pm.

Free tours.

Seasonal tour times. Located in n Atlanta, Georgia
Gwinnett Historical Society and Gwinnett History Center maintains a genealogy and history library in the courthouse.

Open:

Mon.- Fri. 10 a.m.- 2 p.m.

Free admission, but donations appreciated.

In Lawrenceville, Georgia

Gwinnett Veterans War and Memorial Museum - Located inside the Gwinnett Historic Courthouse in Lawrenceville, Georgia, Covers war from the Revolutionary War to the present.

Free to visit and free parking. However, a $1 donation is appreciated.



Marietta Fire Museum showcases antique fire engines and fire-fighting equipment.

Free to visit and free parking.

In Marietta GA 30060



Old Campbell County Museum and Research Room

- Learn the history of Campbell County and visit the historic courthouse. OCCHS was formed in 1970 as a non-profit organization dedicated to the preservation of the historic Campbell County Courthouse and the documents, images, artifacts, and information that are part of our county. The Courthouse in Fairburn is now the home of this society and houses the OCCHS museum which tells the story of Campbell County.

Amenities

: Parking, Restrooms, Accessibility for mobility-impaired.

Hours

: Tues 11am - 4pm or by appointment. Call for tours.

Free admission and parking.

Phone

: 770-642-9358 or 770-969-5618 -

Address

: 45 NE Broad St, Fairburn, GA 30213
Old Courthouse on the Square - This former courthouse is over 100 years old. It features the Jim Cherry Museum with a special Civil War room.

Free admission

. In Decatur, Georgia

Robert C. Williams Museum of Papermaking - Trace the history of paper from 4000 B.C. to today's contemporary paper artists.

Free guided tours. Reservations required for tours. Donations accepted.

Located in Atlanta, Georgia.

Roswell Fire Museum - This small local museum focuses on the history of the Roswell Volunteer Fire Department.

Call for free tours.

In Roswell, GA

Smyrna Museum contains a large collection of photographs, memorabilia, publications, and historical and and genealogical research materials.

Admission is free; however, donations are accepted.
Teaching Museum North - Exhibits document the history of the U.S., Georgia and Roswell.

Admission is free; however, donations are appreciated.

In Roswell GA

The David Spencer CDC Museum - See how the CDC's work leads to safer and healthier people. A museum, visitors center and interactive educational facility.

Free admission and parking.

In Atlanta, Georgia

The King Center for Non-Violent Social Change - Established in 1968, The King Center serves as an international clearing house for official King programs, public info and educational materials. Exhibits and memorabilia highlight the life of Dr. Martin Luther King Jr. and the civil rights movement. Visit the crypt of Dr. and Mrs. MLK Jr. Located in Atlanta GA.

Free admission

.



Veteran's Historical Museum at Heritage Park

- Impressive collection of original uniforms and military paraphernalia from World War I to present. Veteran tour guides give visitors a look into the life of the soldiers who wore the uniforms on display.

Tours

Mon, Wed, Thurs 11am to 2pm, or by appointment.

Free admission and parking.

Amenities

: Parking, Public Restrooms and Accessibility for mobility-impaired.

Phone

: 770-288-7300 -

Address

: 101 Lake Dow Rd., McDonough, GA
Historic Sites & Historical Societies
Alpharetta Historical Society in the Mansell House - See several resources and places for you to enjoy. Discover your heritage with the research library and archives, and heritage programs.



Fayette County Historical Society

runs a research center for genealogical and historical research and offers a walking tour of the Fayetteville historic area.

Open:

Call for hours and to schedule group tours.

Free admission.

Amenities:

Parking, Public Restrooms, Accessibility for mobility-impaired.

Phone:

770-716-6020 –

Address:

195 Lee St., Fayetteville, Georgia 30214

Governor's Mansion is where you can take a tour through the beautiful mansion to learn the history and see its collection of 19th-century neoclassical furnishings, paintings and porcelain.

Open:

Tue.-Thurs. 10-11:30a.m.

Free admission.

Amenities:

Parking, Public Restrooms, Accessibility for mobility-impaired.

Phone:

404-261-1776 -

Address:

391 W Paces Ferry Rd., Atlanta, GA 30305

National Archives of Atlanta is Georgia's most valuable historical documents are housed here, helping state and local governments meet records requirements.

Open:

Tue.-Sat. 8:30a.m.-5p.m. Closed Sundays, Federal holidays, and Saturdays that precede any Federal Holiday which is observed on a Monday.

Free admission.

Amenities:

Parking, Public Restrooms, Accessibility for mobility-impaired.

Phone:

770-968-2100 –

Address:

5780 Jonesboro Rd., Morrow GA 30260
Miscellaneous
Baps Shri Swaminarayan Mandir Temple

- The BAPS Shri Swaminarayan Hindu Temple is one of metro Atlanta's most spectacular cultural, arts and spiritual highlights. One of the largest Hindu temples in the U.S. It is also an architecural masterpiece.

Free Tours available, donations appreciated.

Amenities:

Parking, Public Restrooms and Accessibility for mobility-impaired.

Phone

: 678-906-2277

Address:

460 Rockbridge Rd. Lilburn, GA


Atlanta Travel Region Printable Map
Metro Atlanta Georgia

Festivals & Events

Free Outdoor Activities

Tourist Centers

Travel Region Info