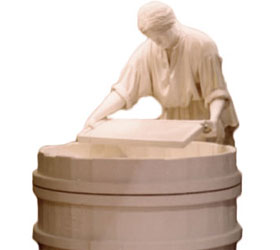 This museum is an internationally renowned resource on the history of paper and paper technology. In addition to more than 2,000 books, the Museum features a remarkable collection of over 10,000 watermarks, papers, tools, machines, and manuscripts. The museum also features the Dard Hunter Collection of artifacts and books on paper and hand papermaking.

Throughout history, papermaking by hand or by machine, has had five needs which have remained constant:



A clean source of water

A close and abundant supply of fiber

The tools to make the paper


A method of transporting the product

A market to purchase the paper

In 1690 the Rittenhouse family arrived in Colonial America. They brought with them from Europe a mould and a deckle, the tool to form a sheet of paper, and the knowledge of papermaking. At their new mill site they built all their larger tools, including the stapmers, vat, press, and drying racks. The mill site they chose was located near a village where cloth scraps from weavers were available for fiber, and running water in the creek was free from mineral deposits which would discolor the paper. The short haul to market was made by horse and wagon. The local printer, anxious to have a reliable source of paper, was ready to purchase all the mill could produce.
Today paper mills still locate near sources of water which are free from mineral deposits. They use a variety of fibers for papermaking, but by far the most popular are recycled paper and wood. The tools have become complex high-tech machinery, but they still perform the same steps carried out by the early papermakers. Railroad cars, container ships, and freight trucks now transport the paper to market, which is now both national and international. Despite predictions of a paperless society, today's average American consumes more that 675 pounds of paper per year.

The Robert C. Williams Museum of Papermaking store stocks a unique variety of paper crafts and gifts. These items include books, handmade cards and ornaments, paper jewelry, marbled boxes, handmade albums and Dard Hunter's Arts and Crafts designs.



Amenities:

parking, public restrooms and accessibility for mobility-impared.



Free guided tours. Reservations required for tours. Donations accepted.
Young Dard Hunter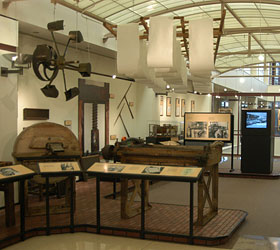 Dard Hunter was born on November 29, 1883 into an Ohio family with a long tradition of printing and publishing. His given name was William Joseph. The origin of the nickname "Dard" remains unknown. Seeking a career in art, he joined Elbert Hubbard's Roycrofters in East Aurora, New York, in 1904. As a leading proponent of America's Arts and Crafts Movement, Hubbard encouraged Hunter to develop his artistic talents in many media, including graphic design, stained glass, and metalwork. Hunter is now considered one of the movement's greatest artists.
Dard Hunter's Introduction to Papermaking.

In 1911, Dard Hunter visited London, where he became fascinated with early European papermaking and printing. He returned to America to set up a shop in Marlborough-on-Hudson, New York. In printing his first book in 1915, The Etching of Figures by William Bradley, Hunter continued to practice the creed of the Arts and Crafts Movement, whose proponents believed that a hand-crafted object was inherently more desirable, beautiful, serviceable, and worthy of human endeavor than anything made by a machine.

"From Hand to Machine: The Evolution of Papermaking", is the opening presentation in the new George W. Mead Paper Education Center. The exhibit details the evolution of science and technology in papermaking, showcasing artifacts from the 1300s to paper made in space aboard the space shuttle Columbia.
Phone - Address - Hours Open - Directions & Website
Phone:

404-894-7840-

Address:

Institute of Paper Science and Technology, Georgia Tech, 500 10th Street NW, Atlanta Georgia 30332-0620



Open

Monday through Friday from 9 am to 5 pm. The Museum is closed on Georgia Tech holidays.



Directions From the Airport or I-75/I-85 Northbound

: take I-75/I-85 North to Exit 250 (Tenth Street - Fourteenth Street - Georgia Tech). Turn left at the exit light on Tenth Street. Go about 3/4 mile. Just after you cross Hemphill Avenue, the parking entrance for IPST will be on your left. The building is located at the corner of Tenth Street and Hemphill Avenue.



Directions From I-75 Southbound:

take I-75 south to Exit 252 (Northside Drive). Go south on Northside Drive (turn right). Take Northside Drive to Tenth Street (about 1.4 miles). Turn left on Tenth Street. The building is on your right in about 200 yards.

American Institute for Paper Making Website
Loading


Atlanta GeorgiaTravel Region Printable Map

Metro Atlanta Georgia

Festivals & Events

Free Indoor Activities

Free Outdoor Activities

Tourist Centers

Travel Region Info