General and History Info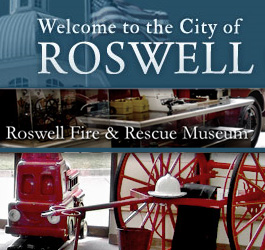 The museum contains numerous fire-related pictures and historical information that pertain to the Roswell area. Additionally, there are also artifacts concerning fire history in Atlanta as well as info and static displays illustrating the fire service in general. The main piece of history that occupies the museum is a 1947 Ford American LaFrance Pumper. This is an original piece of fire fighting equipment that was used by the City of Roswell. This fire truck is taken out of the museum occasionally to ensure proper maintenance and to allow it to operate for a period of time. The truck also participates in a parade or two throughout the year.

Roswell's first fire station, located on Elizabeth Way in the old Citizens Bank building, was rented for $10/month in 1937 for use as an office for the clerk and storing the fire truck.

In 1946, the city built a small concrete block building on Alpharetta Street near Elizabeth Way in which to house the City Hall, fire station and jail. The cost of the building was $1000, much more than originally planned because of the extra steel bracing needed for the jail. The fire department was expanding in volunteers and equipment, making it necessary in the mid 1950's to purchase the Economy Auto Building next door for the fire station.

In 1979, the Wright Chevrolet building on Alpharetta Street at Norcross Street became available, and the city purchased the building for the Fire Department. The 1942 building, enlarged into a five-bay fire station with 11,643 square feet of space, was completed and put into use in 1980. The glassed-in room used as a showroom for the car dealership is the present museum.



Amenities

: parking, public restrooms and accessibility for mobility-impared.

Call for free tours.
Museum Hours of Operation, Contact & Address
The museum is open for visitors 7 days a week at 8am to 5pm. The only time the museum is not available is when the personnel working at the station have to leave the station to respond on a Fire or EMS incident.



Phone:

770-641-3730 -

Address:

RFD Station 1, 1002 Alpharetta St, Roswell Georgia 30075


Metro Atlanta GA Travel Region Printable Map
Metro Atlanta Georgia

Festivals & Events

Free Indoor Activities

Free Outdoor Activities

Tourist Centers

Travel Region Info