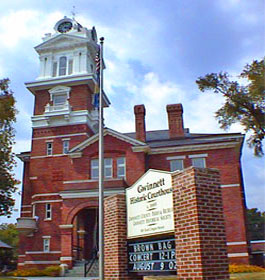 The Gwinnett Veterans Memorial Museum is a tribute to all brave men and women who have defended our land and liberties from the Revolutionary War to the present.

This museum honors the War of 1812, the Civil War, World War I, World War II, the Korean War, Vietnam, the Persian Gulf Wars and Operation Enduring Freedom.

As you tour the museum, you'll be captivated by the stories of men and women who gave so much to our country and for our freedoms. The museum is filled with a collection of wartime artifacts, memorabilia, and uniforms from all branches of the service.

The exhibits have been compiled by the Gwinnett Veterans Council and include Veterans' personal stories. The museum is a must see and has been designed to serve as an educational center and memorial for generations to come.

We all have important values and ideas, things we care about and want to share. Sometimes we feel our ideas can even change the world, and we want to let other people know how they can join in and make all our lives better. We believe this can be accomplished in part by knowing about our past and the sacrifices that have been made.

We are a nonprofit organization dedicated to saving the history and artifacts of American Veterans and their service to our world today. Please visit website for more info.



Amenities

: Parking, Public Restrooms, Accessibility for mobility-impaired and Party Facilites.



Free to visit and free parking. However, a $1 donation is appreciated.
Hours
Monday through Friday at 10 am to 4 pm and Saturday at 10 am to 2pm
Phone, Address & Website
Phone

: 770-985-0901 or 770-921-1326 -

Address

: 185 Crogan Street, Room 118, Lawrenceville, Georgia 30045 - Gwinnett Memorial and War Museum Website
Loading


Metro Atlanta Georgia Travel Region Printable Map

Metro Atlanta Activities

Festivals & Events

Free Indoor Activities

Free Outdoor Activities

Tourist Centers

Travel Region Info