General Information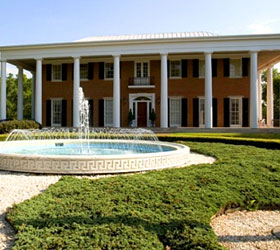 This official residence opened in 1968. Lester Maddox was the first Governor to reside here. His administration was followed by Jimmy Carter, George Busbee, Joe Frank Harris, Zell Miller, and Roy Barnes. Governor Sonny Perdue is the seventh administration to occupy this Executive Mansion.

There are a total of 30 Doric columns made from 24 feet high California Redwoods surrounding the porch. They have been hollowed out and treated on the inside to disguise the flat roof's water drainage system. The house has 30 rooms and is approximately 24,000 square feet in size. The architect was A. Thomas Bradbury.

The 18 acres of broad sloping lawns and gardens once belonged to former Atlanta Mayor Robert Maddox who owned a large English Tudor home on this site. When Mr. Maddox sold the property to the state, the home was demolished, and this Executive Residence was built on the same site.

All of the furnishings in the Mansion are considered to be of museum quality and make up one of the finest federal period (1780 – 1820) collections in the United States. These furnishings were acquired by a 70 member Fine Arts Committee while the Mansion was being constructed. It is a permanent collection and belongs to the State of Georgia. It does not change from one administration to the next.



Amenities:

Parking, Public Restrooms, Accessibility for mobility-impaired.
Public Tours
We encourage everyone to come visit the Governor's Mansion and especially enjoy welcoming children on class fieldtrips. Below you will find several handouts about Georgia that we've put together for your use.

Public tours are conducted throughout the year on Tuesdays, Wednesdays and Thursdays between 10:00 a.m. and 11:30 a.m.

Please make reservations for groups of 10 or more by calling (404) 261-1776.

The tour is a hybrid of a guided and self guided tour. We have docents stationed in each room to teach you about the collection but you may go from room to room at your own pace. Many of our docents have volunteered at the Mansion under several Governors and are as much a part of the tour as the collection itself.
Online Tour Gallery

Entrance Hall

Library

Guest Bedroom

State Drawing Room

State Dining Room


Circular Hall

Family Sitting Room

Family Dining Room

Please visit us in person to get a more in depth tour!
Phone, Address, Website and Operating Hours
Phone:

(404) 261-1776 –

Address:

391 W Paces Ferry Rd., Atlanta Georgia 30305 - The Georgia Govenor's Mansion Website - Open: Public tours are conducted throughout the year on Tuesdays, Wednesdays and Thursdays between 10 am and 11:30 am.
Loading

Atlanta Georgia Travel Region Printable Map

Metro Atlanta Activities

Festivals & Events

Free Indoor Activities

Free Outdoor Activities

Fun Activities $5 & Under

Tourist Centers

Travel Region Info