General Information
See the visual arts, Permanent collection, performing arts and two historical homes listed on the National Register of historic places. Many of these fun activites are free.

Our mission is to nurture, guide and stimulate the enjoyment of and participation in the arts among Douglas County residents and visitors.

View of the Porch of the Historic Roberts-Mozley HouseView of the front porch of the historic Roberts-Mozley House, the home of the Cultural Arts Council of Douglasville/ Douglas County
by providing an atmosphere conducive to the arts, broadening the spectrum of quality exhibits and performances available to the community, and fostering individual interactions with the arts through a wide range of satellite groups.



Amenities:

Parking, Public Restrooms, Accessibility for mobility-impaired and Party Facilities



Admission and parking are Free.
Visual Arts
CAC presents monthly exhibits of works by local, regional, national and international artists at the Arts Center. Gallery attendance has increased, receptions now often draw 200 or more people, and today's gallery talks and tours are increasingly popular.

Changing exhibits through CAC's Art on Loan program have featured Japanese kites on loan from the Consul General of Japan in Atlanta's collection, handmade quilts created by the Cherokee Rose quilting circle, and recent works by the Atlanta Printmakers Studio at the new American Red Cross Blood Services facility.
Permanent Collection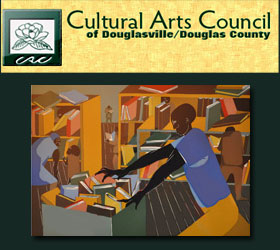 The permanent collection of the Cultural Arts Council of Douglasville and Douglas County is one of our community's greatest cultural assets. Its care, maintenance and development have been among my greatest pleasures and responsibilities as the executive director.

"The visual arts in general and the permanent collection in particular have been among the great strengths of the Cultural Arts Council and its programs since it was established in 1986 "Such a collection with so many outstanding art works in so many different mediums is the result of many individuals' dedication and vision for many years.

This year the Cultural Arts Council celebrates its 22th anniversary, and it is especially appropriate that we honor the permanent collection and those who so generously have contributed to its development by publishing this catalogue. In this endeavor we are very grateful for expert assistance of Keith Rasmussen, a well-known Georgia printmaker and the former director of the Chattahoochee Valley Museum of Art, who has worked with us this year in a consultancy supported by the Georgia Council for the Arts. His insights and acumen will inform and support the future of the permanent collection.
Performing Arts
Free performances at monthly exhibit receptions and other events are offered at the Cultural Arts Center throughout the year. During last summer's Ice Cream Social, the West Side Winds community ensemble performed for a full house, delighting the crowd almost as the cold refreshments.

In addition to performances by local musicians at openings and other events, CAC offers free outdoor concerts in May and September on O'Neal Plaza. Last year enthusiastic crowds enjoyed an Irish Spring with contemporary and traditional Celtic music, and the fall series showcasing rock masters Bruce Hampton, Tommy Dean and Geoff Achison, an Australian ranked one of the world's top ten guitarists by Guitar Player magazine.
Arts Education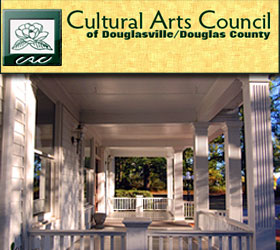 Quarterly classes in visual, performing and literary arts at CAC are offered for children and adults throughout the year. Classes are small and fees are kept low so everyone can enjoy and learn from the arts. The Arts Council also hosts the annual Youth Art Month exhibition during March and the Holiday Card Design Competition and Festival of Trees in December to celebrate student achievement at the Cultural Arts Center.

Students from local public and private schools (kindergarten through high school), as well as college students from the University of West Georgia and Georgia State University, regularly tour our exhibitions at the arts center. More than 150 Spanish language students got special tours of the Mexican artists show last January, which opened with our first Dia de Los Reyes celebration, attended by more than 500 people.

In 2009, 300 people learned about Hispanic culture and holiday traditions during our second free fiesta, presented in partnership with the Hispanic Business Round Table.
History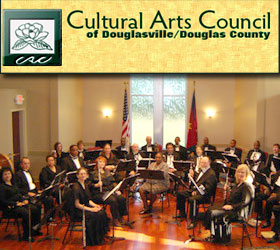 Since 1986, the Cultural Arts Council has offered cultural services in Douglasville and Douglas County. The Arts Council's first achievement was the purchase of the historic Roberts/Mozley house in the heart of Douglasville for use as a community arts center.



CAC Home


Listed on the National Register of Historic Places, the graceful two-story neoclassical house, built by a State Senator in 1901, has been home to three Douglasville mayors. Its restoration initiated historic preservation activity locally. The historic house is free and open to the public, Monday through Friday, 9 a.m. until 5 p.m., and Sundays from 1 until 5 p.m.

Monthly exhibits are presented at the arts center, which is also used for meetings, performance and special events. CAC's permanent collection of works by outstanding artists was developed through gifts and purchase prizes. The outdoor sculpture by Georgia artist Joel Yawn is on the Smithsonian Institute's national Save Outdoor Sculpture registry.

Works by local artists are sold in our gift shop as well as through the gallery exhibits. Classes are offered at CAC and in the adjacent Wynn Building. As a GCA Grassroots Program agency, CAC administers a regranting program for Douglas and Paulding Counties. CAC also supports its satellite organizations and their programming.
Historical Roberts-Mozley House
Listed on the National Register of Historic Places!

In 1886,a century before the Douglasville/Douglas County Cultural Arts Council purchased this elegant, late Victorian period home, Judge and Colonel W.T. Roberts exchanged wedding vows with Emma Quillian, daughter of the Reverend J. C. B. Quillian. Reverend Quillian was one of the early settlers of Douglas County, and the property's original owner. After the death of Reverend Quillian, Colonel Roberts bought the land from his mother-in-law and work on the two-story Neoclassical home began March 21, 1901.
Phone - Address & Website
Phone:

770-949-ARTS (2787) -

Address:

8652 Campbellton Street in historic Douglasville, Georgia - Douglasville Cultural Arts Council Website
Operating Hours
Monday - Friday at 9 am - 5 pm
Loading


Atlanta Travel Region Printable Map

Metro Atlanta Activities

Festivals & Events

Free Indoor Activities

Free Outdoor Activities

Tourist Centers

Travel Region Info