There are over 12,000 miles of warm water streams in Georgia. Relax, fish, enjoy nature and stay cool. River fish and fishing tips are included. Click on

light blue links

for more info.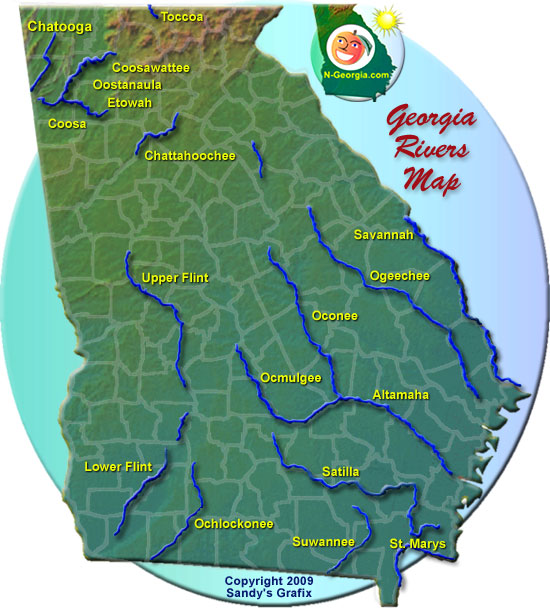 Georgia Rivers Map
Click on the GA rivers links below for fishing and general info about each river.
Altamaha River - The Altamaha River flows from the merging of the Ocmulgee and Oconee rivers, forming the largest free flowing river in Georgia. Once a major thoroughfare for steamboat traffic, the Altamaha now hosts a variety of sporting activities, ranging from bank and boat fishing, to canoeing and leisure boating, to tournament angling.
Chattahoochee River from Buford Dam to Roswell Road and from Morgan Falls to Peachtree Creek - In addition to supplying nearly 70 percent of metro Atlanta's drinking water, the 48-mile stretch of the Chattahoochee River between Buford Dam and Peachtree Creek offers some of the best trout fishing in north Georgia.
Chattooga River - The Chattooga is a tributary of Weiss Reservoir. It originates near Lafayette and meanders about 51 miles southwest. A narrow river channel with numerous hazards makes most of the river floatable only by canoe or small boat. Large prop and jet boats can navigate the river below Ga. Hwy. 27 with caution.
Conasauga River - From its confluence with the Coosawattee River, upstream to its origin deep within the Cohutta Wilderness area of Fannin County, the Conasauga extends about 95 miles through rural north Georgia and southern Tennessee.
Coosa River - The Coosa River begins in the City of Rome and flows 30.4 miles west-southwest, entering Lake Weiss at the Alabama state line. The Coosa is home to a robust, naturally reproducing land-locked striped bass population, one of only a handful of such populations found in the nation.
Coosawattee River - The lower Coosawattee River extends about 25 miles from Carters Reservoir to its confluence with the Conasauga River northeast of Calhoun. Public boat access is limited, but anglers prepared for an all-day outing can float from the small boat access at Carters Dam to the only public ramp located near Calhoun at Highway 225.
Etowah River - The Lower Etowah River runs westward from Lake Allatoona to the merge with the Oostanaula River at Rome. Powerboats do not easily travel these 48 miles of river. Numerous shoals make this river most navigable by canoe or kayak. Although there is a boat ramp just below Allatoona Dam, another dam just downstream limits boating from this access.
Upper Flint River - The upper Flint River is one of Georgias most treasured natural resources and home to a unique and productive sport fishery. It provides the most suitable habitat anywhere for the shoal bass, one of Georgias signature species. Characteristics of the Flint River make it especially suitable for canoe and kayak float trips.
Lower Flint River - The Lower Flint River abounds with natural beauty and cultural significance. Since early times, Native Americans have plied its waters, fishing, hunting. They also gathered flint rocks used to make arrowheads, knives and spear points.
Ochlockonee River - The Ochlockonee River may not be as familiar to anglers as other major river in south Georgia, but it is worthy of a visit.
Upper Ocmulgee River - The Ocmulgee River begins at Lake Jackson, the junction of the Yellow, South,and Alcovy rivers. From Lloyd Shoals Dam at Lake Jackson, the river flows southeast through Piedmont shoals for 36 miles before crossing the Fall Line just above Macon. Below Macon, the character of the river changes dramatically as the floodplain widens to produce the shifting channel meandering characteristic of the upper Coastal Plain.
Lower Ocmulgee River - The lower Ocmulgee River is large and sluggish with many meandering bends and some oxbow lakes. The river offers a variety of fishing opportunities, and anglers can look to the Ocmulgee's lower portion for bass, bream and catfish. The lower Ocmulgee River is large and sluggish with many meandering bends and some oxbow lakes.
Oconee River - The Oconee flows through Athens and southwest for about 265 miles where it joins the Ocmulgee to form the Altamaha River. The upper portion includes bedrock outcroppings, stable bank cover and a gravel bottom, while the lower part features cutaway sand banks, fallen woody debris, and a river bottom of primarily sand and silt.
Ogeechee River - Dams do not regulate the Ogeechee. The river rises and falls according to the amount of rainfall in its watershed, creating a unique fishing opportunity. This natural fluctuation in river level plays an important role in fish growth, reproductive success and ultimately fishing. a river bottom of primarily sand and silt.
Oostanaula River - The Oostanaula winds nearly 50 miles from Calhoun to the city of Rome where it meets with the Etowah to form the larger Coosa River. The Oostanaula is a small boat river and anglers should be extra cautious when navigating, especially in the low water period during the summer.
Satilla River - The Satilla River is considered to be one of the most scenic and natural rivers in south Georgia. Originating in Ben Hill County, the river takes a free flowing and winding course for 260 miles before emptying into the Atlantic Ocean.
Savannah River - Flows in the Savannah River below Savannah Bluff Lock & Dam are heavily influenced by releases from Clarks Hill (Strom Thurmond) Dam. Fishing is usually best when river levels drop within 5-6 feet on the USGS flow gauge at Clyo. Check local forecasts for river stage information. Many anglers find that numerous oxbow lakes along the river provide excellent fishing opportunities.
St. Marys River - The St. Marys River is a remote black water stream that originates in the Okefenokee Swamp and meanders for 130 miles until reaching the Atlantic Ocean at the southern end of Cumberland Island. With little development and few river crossings, the St. Marys River offers wilderness experience to those who travel its waters.
Suwannee River - The Suwannee River flows from the Okefenokee Swamp to the Gulf of Mexico. The 33-mile portion of the Suwannee in Georgia contains dark tea stained water and provides a unique fishing experience. Anglers will not find many redbreast sunfish, bluegill or bass, as commonly found in other south Georgia rivers, however, there are other fish to catch, including warmouth, flier, chain pickerel and bullhead catfish.
Toccoa River - Flowing from beneath Blue Ridge Dam in Fannin County lies the cold, clear water of the lower Toccoa River. This 15-mile river stretch has earned a reputation among anglers as one of the best trout rivers in north Georgia. Due to its relatively large size, it is a favored water for fly-fishing enthusiasts. Fish the Toccoa with caution, as water levels can rise quickly during the times water is released from Blue Ridge Dam.
Loading