General Info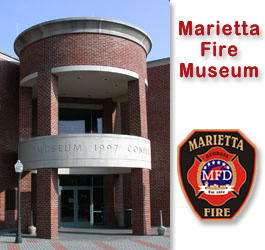 Many items are on display that were used by the Marietta Fire Department dating back to the 1800s.

It has fire service clothing, equipment and antique apparatus. And, some items are on loan from private collectors.

Museum items include:


Photo "Wall of Flame" - back to the late 1800s.


Worldwide antique fire helmets and helmets


Antique firefighting equipment, hoses, nozzles etc.


Antique firefighting apparatus (see below)


Interesting firefighting displays



Fire apparatus on display includes:




1879 Silsby Steamer


1921 American LaFrance pumper


1929 Seagrave pumper

1949 Pirsch ladder truck and a

1952 Chevrolet panel truck



Amenities

: parking, public restrooms and accessibility for mobility-impared.
Antique and Vintage Firetrucks Info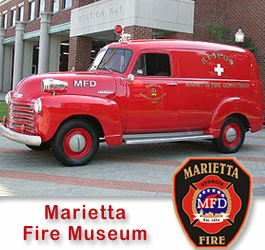 1879 Silsby Steamer
In 1879 the City of Marietta purchased a Silsby steampowered pumper. It was the 655th steamer manufactured by the Silsby Manufacturing Company in Seneca Falls, N.Y. It's a 500-gallon per minute pumper and can flow approximately two tons of water per minute. It served the city until 1921 when it was replaced by the 1921 American LaFrance pumper. The steamer was named the "Aurora" by the local citizens. a horse-drawn steamer capable of delivering 500 gallons of water per minute. See the refurbished "Aurora" at the department's museum on Haynes Street. In 1992 the Aurora received a complete 100% restoration. It was completely nickel-plated and is completely functional. The Silsby Steamer is one of only 5 still in existence.



1921 American LA France 500 GPM Pumper


This fire engine replaced the horse-drawn Silsby Steamer. It was designated as Engine #2. It was one of the first motorized fire apparatus in North Georgia.Interesting features of this truck included: chain-driven power train, 40 gallon chemical extinguisher, spark gap and fuel feed
levers on the steering column.
1929 Seagraves 500 GPM Pumper


This pumper was placed in service in 1929. It was designated as Engine #1. It was placed into reserve status in 1952 and retired from active duty in 1959. Old Engine #1 responded to the great Winecoff Hotel fire of 1947 in Atlanta. Marietta fire crews were requested to assist in battling the infamous blaze which claimed 119 lives.



1949 Pirsch Ladder Truck


This truck was originally designated as Ladder #1. It was one of the longest reaching ladders in North Georgia. Ladder #1 was placed in service in 1949 and remained on active duty until 1984. It was last used on the United Plastics fire on November 1, 1981.



1952 Chevrolet Rescue Truck


This Chevrolet panel truck was donated to the Marietta Fire Department in 1952 by the Marietta Lions Club and was placed in service as the first rescue truck in the city. It was used during the infamous Atherton Drug store explosion in 1962 and during the ice storm of 1972. It was refurbished by the Lions Club in the early 1990s.
Hours of Operation
Phone, Address and Website Link
Phone:

770-794-5466 -

Address:

112 Haynes St. (Fire Station #1), Marietta, Georgia 30060 - Marietta Fire Museum Website
Loading


Atlanta Georgia Travel Region Printable Map

Metro Atlanta Activities

Festivals & Events

Free Indoor Activities

Free Outdoor Activities

Tourist Centers

Travel Region Info