Free metro-Atlanta Georgia activities are historic sites, parks, nature preserve centers, tours, trails, etc. Click on

each location link

below for pictures and more info.
Nature Preserve Centers - Gardens & Wetlands Centers
Alpharetta Arboretums - Arboretums at Cogburn Road Park, Willis Park and Webb Bridge Park showcase the natural beauty of local trees. Complimentary brochures for self-guided tours available at the Alpharetta Welcome Center. Free admission. Located in Alpharetta Georgia.

Autrey Mill Nature Preserve and Heritage Center - This 46-acre nature center has 2 acres of walking trails, scenic creeks, native plants, animal life and farmstead buildings from the 1800s. Provides ongoing heritage and scout programs.

Open:

Park grounds and trails are open daily 8 am until dusk. Free admission. Located in Johns Creek GA.

Davidson-Arabia Nature Preserve - This 535-acre preserve offers indestructible granite and fragile flowers, mosses and lichens. The broad expanses of rock are home to tenacious and fairly rare plant life such as brilliant red diamorpha, sunnybells, "Sparkleberry," yellow daisy and Georgia oak. Located in Lithonia Georgia.
Dunwoody Nature Center is a nonprofit organization established to develop and preserve a natural classroom for environmental education. It has wetland, woodland and streamside trails and wildlife. This 22-acre wetland has over 40 wildlife, including muskrat, red fox, snapping turtle and rufous-sided towhee. You can now get a bird's-eye view of nature from a treehouse rising above the wetlands. Located in Dunwoody GA.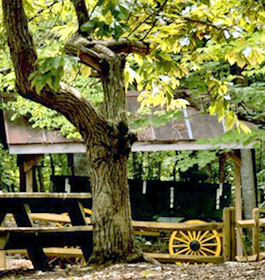 Fernbank Science Center includes a 65-acre forest inside-the-Perimeter wilderness. Trees, shrubs, wildflowers and ferns along the 1-1/2 miles of trail are labeled so children (and parents) can learn what they're looking at. The exhibit hall has stuffed animals and dinosaur skulls. All is free except planetarium. Located in Atlanta Georgia. Phone: 678-874-7102 - Address: Fernbank Science Center, 156 Heaton Park Dr., Atlanta, GA 30307



John Ripley Forbes Big Tree Preserve

- 30-acre forest preserve that offers nature walks along 1.5 miles of walking trails.

Amenities

: Parking, Public Restrooms, Accessiblity for mobility-impaired and Party Facilities.

Phone

: 770-673-0111 -

Address

: 7645 Roswell Rd., Sandy Springs, Georgia 30350

Line Creek Nature Area - Three miles of trail wind through this 70-acre refuge managed by the Southern Conservation Trust. A gazebo, picnic area, , nature trails, fishing dock and fishing pond near the entrance might tempt you to stay close to the car, but be sure to walk to the rocky shoals of Line Creek. Located in Peachtree City GA.
Flat Creek Nature Area - The Southern Conservation Trust preserves 513 acres of wetlands. The trail begins at the native plant garden in front of the Fred Brown Amphitheater. A 1,200-foot boardwalk allows you to explore the bottomland forest and keep your feet dry. 2 observation decks with benches provide spots to sit and bird watch. Free. Located in Peachtree City GA.

Newman Wetlands Center - Come learn about wetlands, see educational exhibits, have a picnic and take a scenic stroll. Come learn about wetlands, see educational exhibits, have a picnic and take a scenic stroll. The Center is a 32-acre site that includes a wetlands trail and a 4,800 square-foot building complex. It is comprised of an exhibit-learning area, a 50-seat auditorium, offices and a conference facility. Free admission. Located in Newman Georgia.

Reynolds Memorial Nature Preserve hosts programs for conservation and offers trails, a historic barn and gardens.

Free admission. Located in Morrow GA.
Outdoor Adventures Recreation Areas - Parks & Trails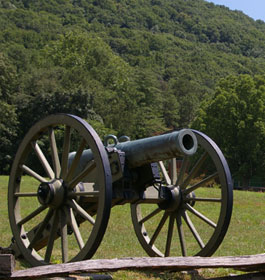 Alberta Banks Park includes the Bobby Bailey Tennis Center, and the 'Field of Dreams' an ADA accessible ballfield and playground. Leashed Pets are Allowed. It is open year-round and there is no gate fee. This is a 20.5-acre park. It has the handicap accessible Field of Dreams, Bobby Bailey Tennis Center with 12 Lighted tennis courts, 2 Softball fields, 3 Baseball fields, Playgrounds, Picnic shelter with water and electricity, Concession building and Restroom. Located in Flowery Branch Georgia.

Alpharetta's Big Creek Greenway offers a wide range of outdoor adventures, including a 6-mile path for walkers, joggers, skaters and bike riders. Total length of the Big Creek Greenway, from Webb Bridge Road to Mansell Road, is approximately 6.2 miles (10 kilometers). Greenway can be accessed at several areas. Located in Alpharetta, GA

Centennial Olympic Park features the Olympic Rings Fountain, playgrounds, a visitors center, water gardens, the Quilt Plaza and Centennial Plaza. This park is 21 acres.

Open:

Daily 7a.m.-11p.m. Free to public.

Amenities:

Public Restrooms, Accessibility for mobility-impaired, Food, Party Facilities -

Phone:

404-223-4412 and 404-222-7275 -

Address:

265 W. Park Ave., Atlanta Georgia 30313
Heritage Park is 129 Acres in size with 4 Lighted Adult Softball Fields, .9 Mile Paved Walking-Jogging Track, 3 Pavilions, Kidsville Playground, Ballfield Area, Covered Bridge, Veterans Wall of Honor, Concession Stand, Community Gardens, Jason T Harper Event Center and Veterans Wall of Honor. Park contains a historic village that features the old schoolhouse and depicts McDonough's history. Free admission. Located in McDonough, GA

Kennesaw Mountain National Battlefield Park - Civil War battlefield offers trails, recreation and picnicking facilities. Welcome center is open daily from 8:30 am - 5 pm. Park is open from dawn to dusk. Free admission and parking. In Kennesaw Georgia.

Lake Acworth Beach - Cauble Park - Boating, Fishing, swimming, picnicking and concerts. Pavillions and beach houses available for rent. Walk-in Free. Parking for a fee. There is no lifeguard on duty at the beach and the swimming area opens at sun up and closes at sun down.

Free admission and parking until Memorial Day and after Labor Day. In other words, it's not free from Memorial Day through Labor Day.

No pets are allowed on the beach areas. In Acworth GA.

Noah's Ark Animal Rehabilitation Center - Houses rehabilited exotic animals such as bears, lions, tigers and monkeys. Picnic while viewing the animals. Free admission, and donations accepted. Located in Locust Grove, Georgia.


Atlanta Georgia Travel Region Printable Map

Metro Atlanta Georgia:

Festivals & Events

Free Indoor Activities

Tourist Centers

Travel Region Info