A subsidiary of a Georgia digital graphic design and video studio, AHA Media, N-Georgia.com receives hundreds of thousands of visits from potential Georgia visitors and local "staycation" travelers every month.

Because you clicked on our advertising page, chances are that's YOUR target audience! By placing a professionally designed digital ad on a travel and leisure site that's been a trusted resource since 1999, you can expect a great return on investment and – more importantly – excellent results.

Why go digital?
Not only is digital advertising a cost-effective means of getting a company's message out into the world, it's also rapidly growing in both scope and reputation as a viable means of:

Effective company branding through logo, company name, and tagline impressions

Measurable results through click-through links right back to your company website

Exposure to thousands of potential customers month-after-month for as little as $.50/per day on N-Georgia.com.

Because N-Georgia.com adheres to strict standards and is continuously updating our content, we maintain a high ranking on the most widely used search engines, including Google, Yahoo, Bing and more. According to a recent Quantcast traffic analysis of our site, once here the average visitor stays on N-Georgia.com for 20 minutes.
Who is the ideal advertiser on N-Georgia.com?
Because 90% of N-Georgia.com's traffic comes to us through keyword phrases involving "Georgia Recreation," "Things to Do in Georgia," "Georgia Festivals & Events," "Georgia Coast & Islands" and more, it's clear that our visitors are actively LOOKING for fun stuff to do and great places to see right here in Georgia.

N-Georgia.com proves a valuable resource to our visitors, as well as a powerful advertising tool for a wide variety of clients – including:
Hotels, Bed & Breakfast, Cabin Rentals and Resorts Restaurants Wedding Venues
Area Attractions Towns and Cities Wineries Golf CoursesHorseback Riding Stables
Travel Agents Realtors and Brokers Meeting and Event Planners Job Agencies
Malls and Retail Destinations And MORE!
Okay , I'm sold! How do I get started?
Getting started is easy! Simply click on one of the three terrific ad choices below (or contact us for a Home Page ad), follow the directions to complete your online order, and we'll take care of the rest! AHA Media's experienced graphic designers will create a compelling ad for your approval within 48 hours. Most of our advertisers witness results within weeks of their ad going LIVE on N-Georgia.com, and many claim to have recouped the cost of their ad within the first month. It's no wonder why we have a high client retention rate!
For more information or to answer your advertising questions, please send a private message to my facebook page by clicking on the facebook link at the top right.

Sample Ad Sizes to Choose From

234 x 60 Pixel Half-Banner Ad

- Fits well in content area of all pages

Purchase Your Ad Here

Half-Banner Ad

1 Year for 1 Ad - $399

Text Ads - Ad Description up to 256 Characters with Link to Your Website
1 Year for 1 Ad - $199


Links on 'Lodging' Page

1 Year-2 Links - Map & Text Link Below Map Per Accommodation - $300

N-Georgia.com's visitors can be your new customers!

For more info, and please

visit

Aha-Media.com

.




N-Georgia.com Visitors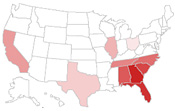 U.S. Visitors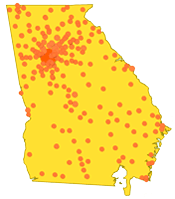 Georgia Visitors
Less Cost-More Results!

N-Georgia.com's visitors can be your new customers!