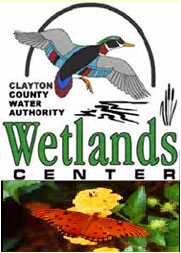 The Center is a 32-acre site. It includes a wetlands trail and a 4,800 square-foot building complex. This wetlands center is comprised of an exhibit-learning area, a 50-seat auditorium, offices and a conference facility. There are picnic facilities on site, which may only be reserved for Wetlands Center group program participants.

Visitors may use these facilities on a first arrival basis. Grills or open fires are not permitted. Visitors can view various exhibits presented throughout the year, watch informative wetlands videos, or hike the wetlands trail. As you walk through the wetland trails, you might be fortunate enough to see some of the many wildlife species that either stop over during migration or take advantage of this habitat for nesting orpermanent residence.

In addition to over 130 bird species, we have seen beaver, river otter, fox, raccoon, muskrat, deer, wild turkey, opossum, mink, and many species of reptiles, insects and amphibians.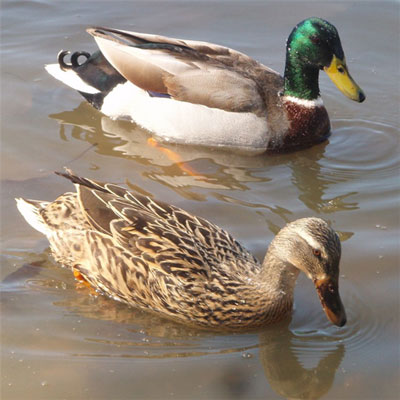 In partnership with the Atlanta Audubon Society, weekend bird walks are scheduled at this site throughout the year.

Birding classes and workshops are also offered periodically. Special programs on such topics as Waterfowl, Bats, Reptiles and Gardening are scheduled annually. Please report any unusual or interesting sightings to a staff naturalist.

Picnic areas are located near the building and may be reserved for groups participating in programs at the Wetlands Center. Visitors may wish to view the informative wetlands video, examine exhibits, or head straight out onto the wetlands trail for self-guided walks. The entire facility, including trail, is wheelchair accessible.

Admission and parking to the Wetlands Center is free,

but group programs may require fees.

The Wetlands & Watershed Festival is held each year on a Saturday in October.



Amenities:

Parking, Public Restrooms, Accessibility for mobility-impaired, Party Facilities.



Volunteer Opportunities


We are always looking for a few good people to help with our educational programs and projects. If you are interested in helping out, please let us know!
Walking Nature Trails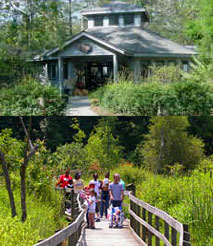 The wetlands trail is ½ mile long, a very easy walk on a surface alternating between crushed stone through forested areas and boardwalk over the swamp. It is very flat, with seating, covered areas and a water fountain. Wheelchairs and baby strollers can be accommodated on the trail.

Visitors are welcome to either wander through the wetlands on their own, or they may wish to be part of a larger group guided by the staff. Groups of 10 or more who wish to tour the Center with a guide may reserve time by calling.

School groups (grades 1-12) wishing reservations for the spring or fall are urged to call well in advance to be assuredof their date preference.

During the summer months (June-August) weekday guided walks are often scheduled for visitors without reservations. Times for these walks are posted on the bulletin board at the trail entrance, as well as notices for special classes or events.
Hours of Operation, Phone, Address and Website Link
Trail

: Open daily from 7 am - 7 pm March - October & 7 am - 5 pm November - February -

Building

: Open 8:30 am - 5 pm Monday - Friday September - May & Tuesday - Saturday June - August



Phone:

770-603-5603 -

Address:

2755 Freeman Rd, Hampton Georgia 30228 - Clayton County Wetlands Center Website
Loading


Atlanta Georgia Travel Region Printable Map

Metro Atlanta Georgia:

Festivals & Events

Free Indoor Activities

Free Outdoor Activities

Tourist Centers

Travel Region Info