A barn-shaped museum is the entrance to the historical village and will house historical items. The village contains a 100-year old corn crib, a Village Garden area, an 1827 settlers log cabin, an original two-room county school house, a cookhouse, the first library building in Henry County, Lane's country store and a 1934 steam engine locomotive and tender, similar to "Old No. 7," the engine made famous by the Camp Creek Train Wreck of 1900.



Park & Facility Amenities:

129 Acres

4 Lighted Adult Softball Fields

3 Pavilions

.9 Mile Paved Walking-Jogging Track

Kidsville Playground

Ballfield Area

Covered Bridge

Veterans Wall of Honor

Concession Stand

Community Gardens and

Jason T Harper Event Center



Heritage Museum & Historic Village:

Barn Museum

Settler's Cabin

Ola Schoolhouse

Corn Crib

1934 Steam Locomotive

Lane's Store

Detached Cookhouse

Henry County's First Library

Raised Roof Cottage



Amenities

: Parking, Public Restroom, Accessiblity for mobility-impaired, Party facilities.

Hours

are 8am to 11pm. Tour available by appointment.

Free admission and parking.
Heritage Museum & Historic Village Buildings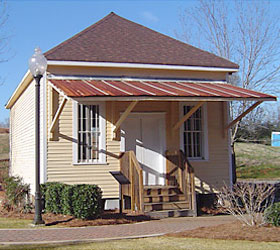 Historic Village - This structures represents what life was like in Henry County around the turn of the century. They are trying to leave a place for younger generations to see how older generations did things and lived. School systems will be able to bring children to the park and use it to help teach them history.



Barn Museum

- Come enjoy and learn about the history of Henry County. Displays consist of items ranging from the 1800's to the 1960's. View the 1927 Ford Model-T. Learn about the Civil War and the Cotton Kingdom Era. And much, much more. Open to the public hours vary from month to month, and free period dressed guided tours are offered by appointment only M-F. For more information contact Monica at (770) 288-8428.



181-Year-Old Settlers' Log Cabin

- Turner Hunt Clements, an early settler, built this log cabin in the 1820's. It originally stood on Georgia Highway 20, northeast of McDonough, and is one of the oldest buildings in Henry County. The last to live in this cabin were George and Shirley Kelley. Although extremely small by today's housing standards, this cabin was typical of what most farm families lived in during the nineteenth century. Families with ten children cooked, ate and slept in the one downstairs room and loft. We have to bear in mind, though, that back then people lived and worked outdoors most of the time. They rested on the porch outside and the children played outside almost all the time. Donated by Mrs. Bertie Arndt in memory of her late husband.



Ola Schoolhouse

- Prior to the 1950s, the "one room schoolhouse" was a standard feature in rural America. All students, regardless of age or grade, were frequently taught in one large classroom. This building served as the Ola Elementary School on Snapping Shoals Road in the 1940's. In the early 1950's, it was moved behind Sharon Baptist Church on North Ola Road and used for Sunday school classes until being moved to Heritage Park in 2003. Donated by Sharon Baptist Church.



Corn Crib

- Numerous small, notched log sheds were built on the farms as storage and barn space. They could be easily built from small trees on the farmers' land. This particular log shed was used to store corn in, and was called a "corncrib." This corncrib dates to the nineteenth century and stood on a farm near Snapping Shoals Road.
1934 Steam Engine Locomotive

- This H.K. Porter Steam Engine and tenders, Tank 0-4-0 locomotive is similar to "Old No. 7," was added as a memento of the County's ties to railroading and the County's worst train wreck at Camp Creek, around the turn of the 20th century, 1900. This locomotive was built in 1933 and operated at the Western Pennsylvania Yards in Connellsville, Pennsylvania until the 1950s. It was one of the last of its kind to be built that operated off of steam. Coal fueled the fire in its boilers. In Pennsylvania, this train was nicknamed the "Highlander," but to the people of Henry County, it's the "Old #7" once again!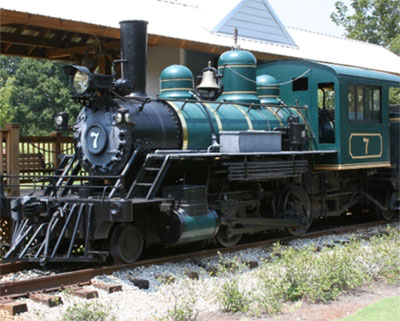 Lane's Store - A landmark in Stockbridge for almost 80 years, has joined the village. Wiley Lane built the store in 1921 on the corner of Rock Quarry Road and S.R. 42/138. Lane and his family lived in the rear of the structure, with three of his four children being born in the store. Lane's store became the general store for workers at the nearby rock quarry. The store operated a filling and service station, as well. Unofficially it served as the social haunt for men in that area. A local gathering place where residents and visitors would exchange news, talks, relax, and drink coffee. The late Herman Talmadge, former Governor and State Senator, was a frequent visitor at the store in the 1940's and 1950's.

The Lane children leased the store after Wiley Lane's death. The widening of S.R. 42/138 made it hard for people to utilize the store and competitors were installing self-service pumps. Jerry Tolbert was last to own and operate this landmark store, that the people of Henry County grew so fond of over the years. Donated by Tony Moye.



Detached Cookhouse

- Cookhouses were often built as separate structures from the main family dwelling prior to the 1930's. This arrangement was due to the fire hazard posed by kitchens of that day. If fire was to break out in the kitchen, it could be contained there without endangering the rest of the house. This cookhouse originally stood on Lawrenceville Street, adjacent to the courthouse in McDonough.



Henry County's First Library

- Henry County's first library building dedicated to the library system, a yellow-painted wood structure stood on John Frank Ward Boulevard in McDonough for more than 60 years before being moved to Heritage Park. While the warehouse was torn down in 1953, Planters Lumber co-founder George Alexander donated the structure next to his brick cotton warehouse for use and a library. It remained the library until a new facility was built on Sims Street in 1973.
Cottage House

- The architectural style of this house is very typical and representative of the better homes built in Henry County and throughout the upper Piedmont during the antebellum period. The style is known locally as a raised roof cottage because of the upper rooms.

This style of house was easily added on to by either shed rooms or, as is the case in this home, an ell on the back of the house. This was a popular house design prior to the War Between the States and could be seen all over Henry County. This structure is one of only a handful which remains in their original form.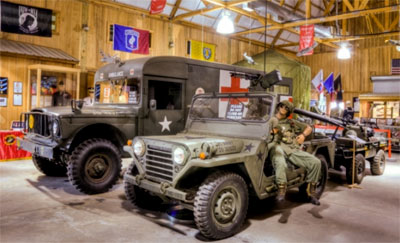 This house is known as the George M. Nolan house and was originally located at the northwest corner of the intersection of Griffin Street and Brown Avenue in McDonough.

Colonel George Nolan (1834-1906) was an attorney in McDonough for many years and active in civic affairs. In the later 1800's, Col. Nolan moved to Jacksonville, FL where he practiced law and served two terms as Mayor of Jacksonville. Around 1905, this house was rolled back to a lot on Brown Avenue to make way for the construction of the Adams - Smith - Mobley House which stands on that site today.

The Nolan House and historic garden features plants in use in mid 19th century Georgia cultivated for beauty and utility. It is a project of the Henry County Master Gardeners that will provide the community with a unique learning center for public garden classes and special gardening events.
Amenities, Phone Number and Address
Amenities

: Parking, Public Restroom, Accessiblity for mobility-impaired, Party facilities.

Phone

: 770-288-7300 -

Address

: 101 Lake Dow Rd, McDonough Georgia 30253
Loading

Check These Out:

Henry County Parks

Nash Farm Park

Henry County Parks Sports Associations

Tussahaw and Gardner Reservoirs

Henry County Wheelchair Sports

Cubihatcha Outdoor Recreation Center

Georgia County Parks