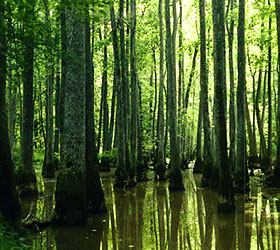 This nature area is a is a 513-acre wetland that extends 3.5 miles along Flat Creek, from the Lake Peachtree spillway at Kelly Drive/McIntosh Trail downstream to Highway 74.

Southern Conservation Trust has installed a mulch trail, a 1200 foot boardwalk and two viewing platforms with benches. Visitors may catch a glimpse of herons, beaver, and other native wildlife in this tranquil setting. Park at the Amphitheater and walk to the boardwalk, or take the paths right to the entrance.

The boardwalk can be reached by the nature trail starting beside the Fred Brown Amphitheater or from the Peachtree City cart path.

A walk on the boardwalk reveals trees and plants typical of a Piedmont forested wetland, including red maples, chestnut oak, American hornbeam and other native plants like turtlehead ferns and cardinal flower.

Numbered markers on the boardwalk indicate tree species. You will find a Wetlands Guide brochure in the information box next to the door on the right side of 201 McIntosh Trail.

An additional viewing platform has been constructed beside the cart path south of Crosstown Road, thanks to the Peachtree City Rotary Club and Eagle Scout Kenneth Scott Molleson. The Howard Morgan Wetland and Nature Observation Deck is named in honor of former Peachtree City Mayor Howard Morgan. The Fayette County Water Authority provided funding for the boardwalk.



Amenities:

Parking, Boardwark, Nature Hiking Trails -

Open:

Daily dawn to dusk



Free admission and parking.
Visitor Regulations

Hours for the Nature Area are dawn to dusk.

No motorized vehicles are allowed.

Dogs must be leashed and litter removed from trails.

Stay on the marked paths

Leave only footprints and take only photos.
Phone, Address & Website Link
Phone:

770-486-7774 -

Address

: 201 McIntosh Trail, Peachtree City Georgia 30269 - Flat Creek Nature Area Website
Loading


Metro Atlanta Georgia Travel Region Printable Map

Metro Atlanta Georgia

Festivals & Events

Free Indoor Activities

Free Outdoor Activities

Tourist Centers

Travel Region Info