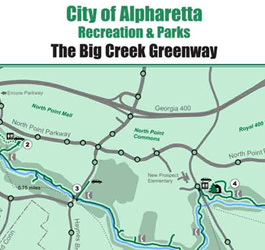 It is for people and the land they love, conservation-environmental education. It provides recreation and alternative transportation.

This greenway is an Alpharetta that is green, with open spaces for people as well as natural areas for plants and animals. The Big Creek Greenway is primarily a 12-foot wide concrete path that meanders through the deciduous woods along Big Creek. The greenway offers an ideal setting for walking, jogging, inline roller blading, and biking. Dirt mountain bike trails are located on the east side of the creek 2/5 mile south of Webb Bridge Road.

Total length of the Big Creek Greenway, from Webb Bridge Road to Mansell Road, is approximately 6.2 miles (10 kilometers)

Bike Trail Description: 10 miles of singletrack loop trail. There is a 1.7 mile well-signed "Beginners Loop" from which all other trails connect. Most of the trails are pretty easy, but there were a few interesting spots on the smaller side trails. There was a cool section of moguls, a few pipes, some more reasonable jumps, several creek crossings (some sandy some rocky), and a few good hill climbs too. All of these more challenging things were completely optional. There are loops upon loops so you can add in or take out just about any section of the trail. Even though there are a lot of loops it's bordered by GA 400 on one side, there's a creek in the middle, and subdivisions (and a swamp) on another side so it's nearly impossible to get lost.



Location

: Mansell Rd and Marconi Dr, Alpharetta, GA. See access areas below.



Amenities:

Parking, Public Restrooms and Accessibility for mobility-impaired.

Free admission and parking.





Directions:

The gravel parking lot is located just east of 400 on the left side of Old Alabama. To get there take Holcomb Bridge going East to Old Alabama, then go North on Old Alabama, and turn left into the gravel parking lot just past the entrance to Belcourt Apartments on the left.
Greenway's Access Areas
Alpharetta YMCA

-

From Old Milton Parkway, go 1/4 mile north on North Point Parkway to Preston Ridge Road and turn right toward the YMCA.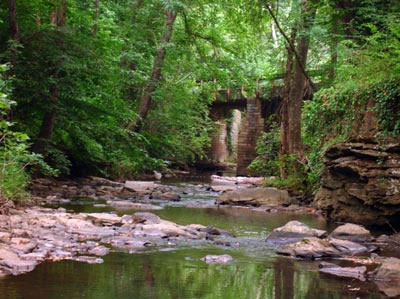 Haynes Bridge Road - From North Point Parkway, go 1/5 mile south on Haynes Bridge Road. A parking lot is on the east/left side of Haynes Bridge Road across from the Archstone Apartments.

North Point Mall - Driving northbound on North Point Parkway halfway between Mansell and Haynes Bridge Roads, find the greenway sign directly across from Haverty's Furniture.Parking is located in a wooded area. Restrooms are available at that location. 800 feet south of this entrance is the NorthPoint Village retail center. Walk behind the shops to the stairway that leads to the wetlands mulch trail.

Note

: The stairs are not A.D.A. accessible.

Kimball Bridge Road: Located 1/4 mile southeast of North Point Parkway, across from New Prospect Elementary School.Parking is allowed at the school during hours when school is not in session (weekends, after hours on school days,and during the summer.)

Marconi Drive: Follow Marconi Drive off of Windward Parkway to reach a small parking area at the northern end of the Greenway.
Phone, Contact, Address & Website Link
Phone:

678-297-6100 -

Address:

Alpharetta Recreation & Parks Dept., 1825 Old Milton Parkway Alpharetta, GA 30004 - Big Creek Greenway Website
Map - Click on map below for larger and printable .pdf image

Loading


Atlanta Travel Region Printable Map

Metro Atlanta Activities

Festivals & Events

Free Indoor Activities

Free Outdoor Activities

Tourist Centers

Travel Region Info