They are located along the scenic northern shore of Lake Acworth. The 90 acre lake is just south of, and empties into, Lake Allatoona.

Acworth Sports Complex is 42 acres and is divided into a north and a south side. Proctor Creek is the dividing line. This complex has 6 baseball fields, two football fields, multiple practice areas, batting cages, restrooms, two concession stands and parking. The complex is home to the Acworth Baseball Association and the Acworth Football and Cheerleading Association Annual Events include the APRD Football Camp, the APRD Baseball Camp, APRD Softball Camp, the Acworth Baseball Association's Opening Day Celebration, the Acworth Football Association Homecoming. The Sports Complex is the future home of the Acworth Special Needs Field. The complex accommodates players, ages five through 14 for baseball and five through 12 for football. Park hours are from 7 am to 11 pm.

For more information on the Complex, tournament listings, fees, registration dates, or directions call phone number listed below.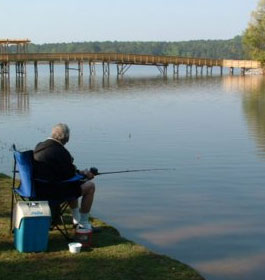 Acworth Beach at Cauble Park - Acworth Beach is a busy place in the summer. The beach and other facilities in Cauble Park attract visitors who come to enjoy the beach, lakefront walkways, picnic areas, and playgrounds. Fun activities include boating, Fishing, swimming, picnicking and concerts. Pavillions and beach houses available for rent. Parking, Public Restroom, Accessiblity for mobility-impaired and Party facilities are also available. There is no lifeguard on duty at the beach. No pets are allowed on the beach areas.



Cauble Park

is one of northwest Georgia's finest parks. Located on on the North side of Lake Acworth, the 25-acre park contains fishing points, public restrooms, a boating ramp (for electric motor driven boats only), a boardwalk, a beach, volleyball net, rental facilities, two playgrounds, and an open play area. Rental facilities include four pavilions, a lakeside gazebo, and a beach house. Cauble Park is home to many annual events. Events include the Summer Concert Series, Acworth Elementary Spring Fling, ski competitions, and our Fourth of July fireworks show. It is also the home to the Veterans Memorial at Patriots Point. Cauble Park features a series of trails that connect Collins Circle to the park and a new addition has been added to the south side of the park that features a boardwalk that crosses the lake and connects to Winn Street.
Amenities:

Parking, Public Restroom, Accessiblity for mobility-impaired and Party facilities.



Fees

:

Walk-in Free.

Parking is free Monday through Friday, except during Memorial Day through Labor Day.





Open

- Park and lake are open year round from 7 am -11 pm. Beach is open for swimming from early June to Labor Day. Ihe swimming area opens at sun up and closes at sun down.
Phone, Address, Directions & Website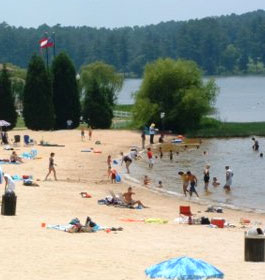 Phone for park, beach and sports complex: 770-917-1234

- Address for Park and Beach:

4425 Beach St., Acworth Georgia 30101

- Directions

: From I-75: South Bound: Take exit 278 - Glade Road. Turn right onto Glade Rd. North Bound: Take exit 278 - Glade Road. Turn left onto Glade Rd. Once you are on Glade Rd. go to the second stop light (Bojangle's will be on your left), turn right onto Lake Acworth Drive (Hwy 92). Turn left at the caution light (West Lakeshore Drive). Go to the second stop sign and turn right onto Academy Street. Follow Academy Street until you see a sign on your left that reads "Cauble Park". You will see the parking lot and the beach house.



Address for Sports Complex:

4000 S. Main St., Acworth, Georgia. 30101 -

Directions

: From I-75:North Bound: Take exit 277, Turn left South Bound: Take exit 277, Turn right Go straight on Cowan Road. At the stoplight, turn left onto Main St. At the 2nd stoplight turn left into the Acworth Sports Complex, the fields will be on your left.
For more info, visit the Acworth Beach - Cauble Park website.
Loading


Metro Atlanta Georgia Travel Region Printable Map

Metro Atlanta Georgia

Festivals & Events

Free Indoor Activities

Free Outdoor Activities

Tourist Centers

Travel Region Info