Activities and General Info
This preserve offers great opportunities for recreation and education. You can visit the nature preserve on your own or schedule a tour with Arabia's interpretive park ranger.

Ride bikes on the multi-use PATH trail through the woodland and past rock outcrops. Hiking to a quiet lake. Discovering unusual plants. Watch the sunrise from the solitude of a high granite outcrop. With so much to offer in recreational, natural and historical resources, the Arabia Mountain Heritage Area is a great place to visit anytime of the year. Whether as an individual, with friends or family, or with a group, you will enjoy the unique treasures found here.

Arabia Mountain Heritage Area is located within a 20-minute drive east of the City of Atlanta and encompasses land in DeKalb, Rockdale and Henry County. The natural, historical and cultural resources prevalent in this area of Georgia provide an exceptional opportunity for recreation, environmental education and heritage preservation.

The nucleus of this heritage area is Davidson-Arabia Mountain Nature Preserve; a DeKalb County Park comprised of 2,000 acres of granite outcrop, wetlands, pine and oak forests, streams, and a lake.



Open

: Trails open daily 7 a.m. to dusk.

Free admission and parking.

Call number at bottom of page for questions and/or to make guided tour appointments. Visit the metro-Atlanta festivals page for free guided events.
Arabia Mountain Trail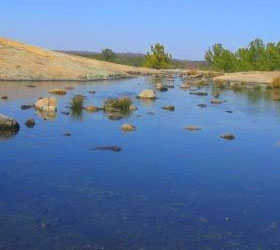 Rock outcroppings the size of football fields, streams rushing over woodland waterfalls, hundred-acre farms just like grandpa used to have, and fields of wildflowers undulating in the breeze. The Arabia Mountain Trail respectfully visits all of these natural wonders as it winds through 2,000 acres of protected parkland in south DeKalb County.

The trail features several new arched granite bridges, a wooden boardwalk, and a short segment over a rock outcropping. Future phases of the trail are funded and in development. These phases will connect Evans Mill Road to Murphey Candler School and Klondike Road with a new covered bridge over Stephenson Creek. Future phases that are yet to be funded and designed will connect Lithonia with Stone Mountain Park and connect the existing trail to Panola Mountain State Park and Rockdale and Henry counties, including a bridge over the South River.

Hard-surface, multi-use trail from Lithonia to 1 mile south of the Davidson Arabia Mountain Nature Center on Klondike Rd. (3.85 miles)

Spur trail (0.7 miles) is built to the west entrance of The Mall at Stonecrest.
Please Watch Your Step to Preserve Plants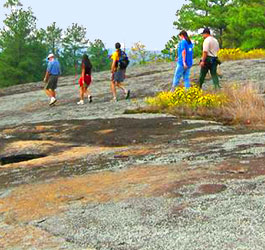 Although plants in the Nature Preserve may appear hardy, they are susceptible to foot damage. Delicate mosses and lichens, some of which take a hundred years to grow just one inch, cover much of Arabia. Sometimes these plants are not obvious to visitors and during dry seasons may even look dead, when really they are just dormant. Just one footstep can kill one hundred years growth!

If Diamorpha stalks - located in the rock depressions - are hit in the summer, their seeds fall onto the rock and burn up - interrupting the life cycle.

So please stay on the trails when you visit and be respectful of this very fragile environment.
Visitor Responsibilities and Regulations
If you pack it in, please pack it out. Pets on a leash. Dispose of animal waste properly in waste cans Please stay on trails (marked by cairns).



The following is prohibited in the nature preserve:




Bikes or wheeled vehicles off the paved multi-use PATH trail.

Glass containers


Possession of paint, alcohol and drugs

Open fires

Horses


Use of public address systems, amplifiers and loudspeakers


Commercial activities only with special permits
Phone - Address - Map - Directions & Website
Phone:

770-492-5220 -

Entrance Addresses:

3787 Klondike Road, Lithonia Georgia 30038 and 4158 Klondike Road, Lithonia Georgia

Davidson-Arabia Nature Preserve Map



Directions: From Atlanta:

Take I-20 East to Exit #74 - Evans Mill Rd/Lithonia. Turn Right off the ramp onto Evans Mill Road. At the light continue straight onto Woodrow Dr. (Evans Mill Road turns to the right. Do not turn right!) Travel on Woodrow Drive for almost 1 mile to stop sign. Turn right onto Klondike Road and travel approximately 1 mile. Continue on Klondike Road past Rockland Road. (caution light at intersection) To park at north parking lot for the nature center:
turn right at 2nd driveway. To park at south parking lot: continue on Klondike Road another 1 mile. Turn left at entrance drive and park here to access the mountain.

Davidson-Arabia Nature Preserve Website
Operating Hours
7A.M. to Sunset
Loading


Atlanta Travel Region Printable Map

Metro Atlanta Activities

Festivals & Events

Free Indoor Activities

Free Outdoor Activities

Tourist Centers

Travel Region Info