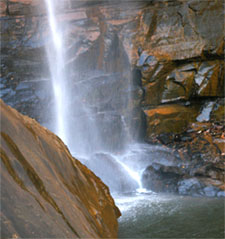 Waterfall Description: This spectacular waterfall, 19 feet higher than Niagara Falls, is located on the campus of Toccoa Falls college. A meandering stream flows through the lower part of the 1100-acre wood campus from the base of the 186-foot high falls.

The short and level trail starts with asphalt and ends with gravel. It is well maintained and handicap accessible. It's a very short walk to this amazing waterfall.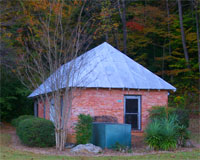 A lot of people were taking pictures and videos. One couple was laying on a rock with their eyes close while listening to the roar of these falls.

There are several areas you can view the waterfall from. However, you will need to go through some rocky hazardous areas to see the waterfall up close. You can see, hear and feel it. At one point, I could feel the refreshing waterfall spray. It was very invigorating!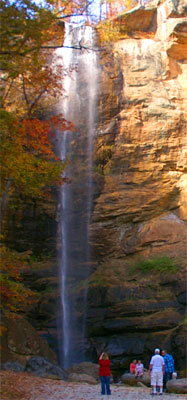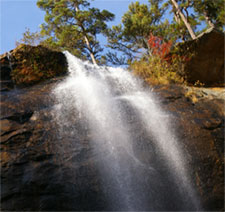 If you want to experience a beautiful waterfall without taking a long walk, this is the one to visit. I will probably stop here several times while traveling in this area. It's a very refreshing and quick picker upper for the soul. See video below.

This is a great place to take your family and friends of all ages. There are restroom facilities and plenty of parking at the Toccoa College Visitor Center.

The cost is a $2 entry fee per person.

Hike Difficulty: Very easy.

Directions: Go on Highway 17 north of Toccoa Georgia. Follow the signs to the campus. Drive to the back area of the college's visitor center. There's plenty of parking. You will purchase a ticket to the waterfall in the visitor center.
Click on picture above or here to see Toccoa Falls Waterfall Video on YouTube.
Loading

Georgia Waterfalls pictures maps, directions and info. Some videos are included.

Amicalola Falls


Ammons Holcomb
Creek Falls

Anna Ruby Falls


Angel Falls and Angel Panther Falls

Becky Branch Falls

Dick's Creek Falls

DeSoto Falls


Dukes Creek Falls


Hemlock Falls

Martin Creek Falls

Minnehaha Falls

Raven Cliff Falls


Toccoa Falls