See 2 major sets of waterfalls on the 1.6 mile Angel Falls Trail. Along the way visitors will follow along shaded streams and pass by many sets of smaller waterfalls.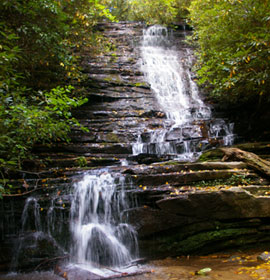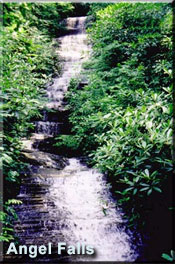 Waterfall Description: Once reaching Panther Falls take a break on the bench at the base or continue up the trail to the observation deck in front of Angel Falls.

The bench at the base of Angel Panther Falls offers hikers a chance to rest and relax before continuing up the trail to Angel Falls.

This is not a short walk. Like most other Georgia waterfalls, you hear the roar of the rushing river along side the path. It is a moderate walk. Tennis shoes and other easy walking shoes are advised. You can walk Fido here, but at times it can be a little tricky for a dog.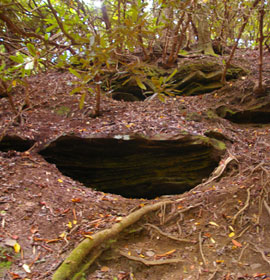 Along the way, we saw small caves where bear stay. See a picture of one of this caves on the right. Please be aware that bears stay here. I thought I heard a low growl while walking on this path. Needless to say, I felt intimidated and almost turned back toward the car, but stayed anyway. It was scary and exciting at the same time!

See Angel Panther Falls waterfall picture on the left side. We walked up to Panther Falls but did not see how to get to Angel Falls from there. Will return to find it and will have info, pictures and a video of it. Please see the video of Panther Falls at the bottom of this page.

While you are here, you may also want to visit Minnihaha Falls that is close to these waterfalls. It is also a short walk to Minnihaha Falls from its' entrance.



Hike Difficulty:

Moderate



Directions:

Take HWY 441 toward Clayton. After crossing the Tallulah Falls Bridge, go 1.7 miles and turn left onto Old HWY 441. Proceed 2.5 miles and turn left onto Lake Rabun Road. Travel 5 miles to Rabun Beach Campground on the right. Angel Falls Trail begins near Area 2 in the campground.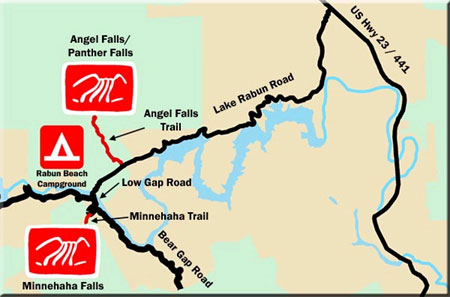 Loading

See Georgia Waterfalls:

Amicalola Falls


Ammons Holcomb
Creek Falls

Anna Ruby Falls


Angel Falls and Angel Panther Falls


Becky Branch - Martin Creek Falls

Dick's Creek Falls

DeSoto Falls


Dukes Creek Falls


Hemlock Falls

Minnehaha Falls


Panther Creek Falls

Raven Cliff Falls