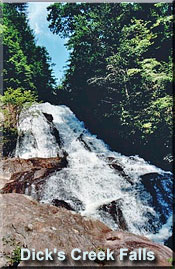 Waterfall Description: Dick's Creek Falls is a beautiful 60 foot falls that makes a sudden drop into the Chattooga Wild and Scenic River.

Hike Difficulty: Easy

Directions: From HWY 441/ Warwoman Road intersection in Clayton, take Warwoman Road east for 5.9 miles to Sandy Ford Road on the right. Travel 0.6 miles bearing left at the fork. Travel 3.4 miles to the second ford. Cross the creek and proceed to the Bartram Trail marker at the top of the hill. Follow the trail north (across the road away from the rock) for about 0.3 miles then turn right onto Dick's Creek Trail at the foot bridge. Follow Dick's Creek downstream until it empties into the Chattooga River.

Note: Parking near the trailhead is limited.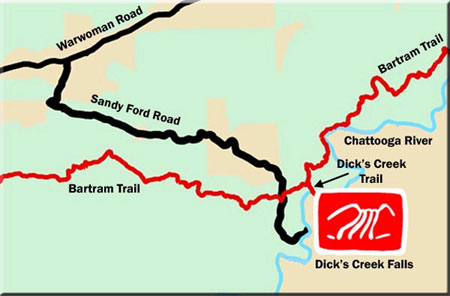 Loading

See Georgia Waterfalls:

Amicalola Falls


Ammons Holcomb
Creek Falls

Anna Ruby Falls


Angel Falls and Angel Panther Falls

Becky Branch - Martin Creek Falls

Dick's Creek Falls

DeSoto Falls


Dukes Creek Falls


Hemlock Falls

Minnehaha Falls

Panther Creek Falls

Raven Cliff Falls