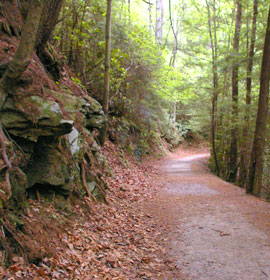 Waterfall Description: There are several stunning waterfalls here. These falls drop about 150 feet down sheer granite canyon and into Dukes Creek. As you walk down the scenic path toward these huge waterfalls, you will see various falls quickly rushing down the river. The sound of these falls roar. For the most part, the walking path is easy. Some areas have moderate inclines. It's a joy to walk on this path because it is so naturally beautiful in this lovely Georgia forest.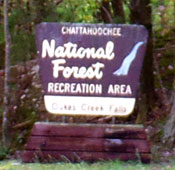 You can take whatever pace is best for your enjoyment. Dukes Creeks observation deck is 1 mile and Dukes Creek Falls is 1.1 miles. Schedule at least 2 to 3 hours for this amazing experience.

This is a great place to take family and friends of all ages. It's also a wonderful place to walk your dogs.

$3 parking fee. See a Dukes Creek Falls video and Google map below.
Hike Difficulty: Easy to slightly moderate. Elevation: 2118 feet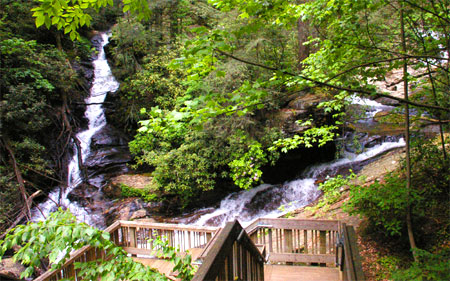 Directions: Take GA 75 north from Helen Georgia for 10 miles to its junction with GA 356 and Alternate 75. At the bridge, cross the Chattahoochee River and go 2.2 miles to the Richard Russell Scenic Highway. Turn right and go 2 miles to the Dukes Creek Falls Recreation Area sign.

GPS Location at parking area: N34 42.103 W083 47.359

Closest Intersection: GA 348 and Hwy 75

View Dukes Creek Falls in a larger map
Loading

See Georgia Waterfalls:

Amicalola Falls


Ammons Holcomb
Creek Falls

Anna Ruby Falls


Angel Falls and Angel Panther Falls

Becky Branch - Martin Creek Falls

Dick's Creek Falls

DeSoto Falls


Dukes Creek Falls


Hemlock Falls


Minnehaha Falls


Panther Creek Falls

Raven Cliff Falls