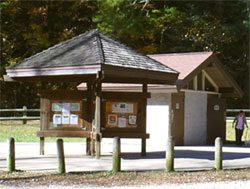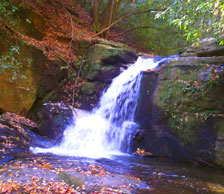 This great waterfall is perhaps one of the most unusual in the North Georgia area because the water flows through a split in the face of a solid rock outcropping to the ground 100 feet below.

Behind the split, the water drops about 60 feet, and then rushes through the rock face, and drops 20 feet into a deep pool. The water than cascades down 20 more feet to Dodd Creek. 3 other waterfalls can be found on Dodd Creek. This area is in the Chattahoochee National Forest.

There are plenty of falls and scenic views to enjoy along the trail to Raven Cliff Falls. There are many places to relax and take pictures in this lush area.

Large rocks and fallen trees are covered with bright green moss. You will pass rocky cliffs on the trail to the main waterfalls.

You will walk on a 2.5 mile natural trail to the waterfall. This is 2.5 miles each way - 5 miles total. Plan on taking a full day for this trip. You may want to take some water and a snack for this enchanting hike.

Before you enter the trial, there is a visitor board packed with information about the trail, wildlife and safety tips. There is also a 2 restroom facility and plenty of parking.

Black bears and snakes live in the forest that leads to the falls. However, you are more likely to see a snake than a bear. We almost stepped on a snake while on this trail.



Free admission and parking.



Hike Difficulty: Moderate with some steep rocky areas. Most of the path is level, but there are some steep uphill climbs. You will climb over several large rocks. Many large trees have long roots that reach across the pathway. I always kept my eyes on the pathway to avoid tripping.

Directions: Take Georgia 75 north from Helen for 1.4 miles, and turn left to the Richard Russell Scenic Highway (Highway 348). Turn right and go another 3 miles. Look for trail signs and blue blazes marking the trails to the falls.

See video below.

Raven Cliff Falls Waterfalls and scenery YouTube video.
Loading

See Georgia Waterfalls:

Amicalola Falls


Ammons Holcomb
Creek Falls

Anna Ruby Falls


Angel Falls and Angel Panther Falls

Becky Branch - Martin Creek Falls

Dick's Creek Falls

DeSoto Falls


Dukes Creek Falls


Hemlock Falls

Minnehaha Falls


Panther Creek Falls

Raven Cliff Falls