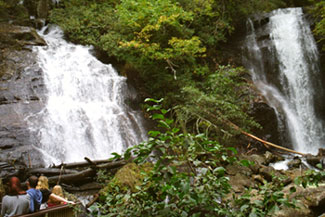 Waterfall Description: These spectacular double falls are created by the junction of Curtis and York Creeks. Both come off Tray Mountain from underground springs. Curtis Falls drops 153 feet, and York Falls 50 feet.

As you go toward the 2 Anna Ruby waterfalls, there are plenty of falls and scenic views to enjoy. You will see tons of places to take great pictures.

The .4-mile trail is paved with asphalt. It is well maintained and handicap accessible. However the path is mainly uphill. Sometimes it can be steep for a little distance. There are lovely stone chairs to sit in along the way.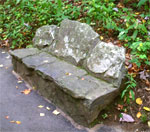 This is a great place to take your family and friends of all ages. It's also a good place to walk your dogs. See the moonshine mine by the Visitor Center. There is a nice trail with grail plaques for visually impaired persons. There is also restroom facilities and plenty of parking.

There is a $3 entry fee per person, and parking is included. See video and Google map below.

Hike Difficulty: Moderate with some steep areas.

Elevation: 1986 feet

Address: The Anna Ruby Falls Visitor Center is at 3455 Anna Ruby Falls Rd, Sautee, GA 30571

Directions: Anna Ruby Falls is off Highway 356 near Unicoi State Park, just north of Helen. Take GA 75 south from Hiawassee or North from Cleveland Georgia. Or GA 17 north from Clarkesville or GA 52/115 east from Dahlonega and Ellijay.

GPS Location at parking area: N34 45.451 and W083 42.610
Click on picture above or here to see an Anna Ruby Falls Video on YouTube.

View Visit spectacular Anna Ruby Falls in a larger map
Loading

See Georgia Waterfalls:

Amicalola Falls


Ammons Holcomb
Creek Falls

Anna Ruby Falls


Angel Falls and Angel Panther Falls

Becky Branch - Martin Creek Falls

Dick's Creek Falls

DeSoto Falls


Dukes Creek Falls


Hemlock Falls

Minnehaha Falls


Panther Creek Falls

Raven Cliff Falls


Toccoa Falls