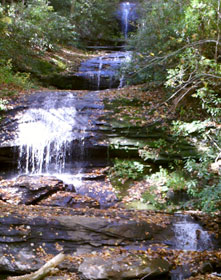 Waterfall Description: There are 5 beautiful falls along the 3 mile section of the DeSoto Falls Trail located in the 650-acre recreation area. 3 of these falls are maintained for the Hiker's viewing convenience, and are designated as the lower, middle and upper DeSoto Falls. The lower falls cascades 20 feet, the middle falls about 80 feet, and the upper falls about 200 feet. See video below.

There are 2 sets of scenic waterfalls to hike to. The first set are a set of magnificent waterfalls. They are a beautiful sight to see while listing to the peaceful sounds of the flowing water. The walk to the larger falls is 3/4 each way. Most of the path is level, but there are a few uphill areas. There are chairs and many beautiful areas to stop along this path.

The path to the smaller set of waterfalls is 1/4 mile each way. It is steep when you start out, but it is mainly level on the second half. You can walk to these falls pretty quick. See picture of these falls below.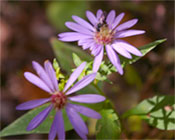 The paths to these falls are mainly nature trails with lots of rocks. Many large trees have long, thick roots that go all across the path. There are lots of rocky side cliffs along these lush north Georgia mountains paths. You will want to keep your eye on the ground due to these obstacles.

These paths are well maintained by the U.S. Forest and Appalachian Trail Association.

This is a great place to take your family and friends of all ages. Dogs are welcome here too.

Hike Difficulty: Low to moderate.

Elevation

: The altitude is 2480 feet.

There is a $3 daily parking fee to enter Desoto Falls U.S. Forest park.

Directions: To reach DeSoto Falls, start where Georgia 52 and GA 60 intersect with US 129, which is two blocks east of the old courthouse in Dahlonega. Go north on US 19, which is two blocks east of 60 for 9.2 miles. Go north on US 19/129 for 4.3 miles. The entrance is on the left. The area is also accessible from Cleveland Georgia by US 129.

GPS Location: Latitude: 34-43'16'' N Longitude: 083-55'03'' W

View Desoto Falls Georgia in a larger map
Loading

See Georgia Waterfalls:

Amicalola Falls


Ammons Holcomb
Creek Falls

Anna Ruby Falls


Angel Falls and Angel Panther Falls

Becky Branch - Martin Creek Falls

Dick's Creek Falls

DeSoto Falls


Dukes Creek Falls


Hemlock Falls

Minnehaha Falls


Panther Creek Falls

Raven Cliff Falls