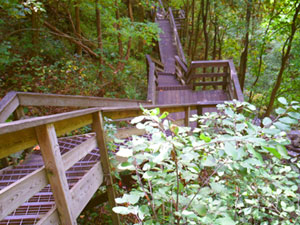 Waterfall Description: These stunning falls plunge 729 feet in seven cascades. Designated as on of the seven wonders of Georgia, Amicalola is the highest waterfall east of the Mississippi River.

You can see Amicalola Falls waterfalls from different angles. The picture on the left shows what you see from the very bottom looking up. This is before you walk up lots of stairs to see it close up.

The stairs that lead to Amicalola Falls are very steep. You will hear a loud roar of rushing water while walking on the stairs to the main waterfalls.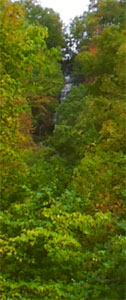 This view is from the top looking down. The elevation here is 2476 feet. It's definitely a sight to behold. From this point, you will see Georgia mountains and lush trees everywhere.

There are stairs just next to this view that lead you to the main falls. Although the stairs are steep, there are several areas where you can stop and enjoy the view. There are also seats throughout the stairs.

This is a great place to take your family and friends of all ages. You can take your dogs, but, you will want to carry them up and down the stairs.

Amicalola Falls is at the Amicalola Falls State Park. There is a $5 daily parking fee, or you can get in with an annual Georgia state parks pass.

See video below. Hike Difficulty: Moderate to high.

Directions: Take GA Highway 52 east from Ellijay or west from Dahlonega. Amicalola is about an hour and a half drive north of Atlanta from either Highway 400 or from Marietta area up Interstate 575 to 515.

GPS Location: Latitude: 34-33'50'' N Longitude: 084-14'23'' W

Visit Amicalola Falls State Park. See information, pictures and a video.
Loading

See Georgia Waterfalls:

Amicalola Falls


Ammons Holcomb
Creek Falls

Anna Ruby Falls


Angel Falls and Angel Panther Falls

Becky Branch - Martin Creek Falls

Dick's Creek Falls

DeSoto Falls


Dukes Creek Falls


Hemlock Falls

Minnehaha Falls


Panther Creek Falls

Raven Cliff Falls