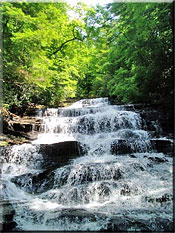 Waterfall Description: The 100-foot Minnehaha Falls is reported to be one of the most picturesque in the region.

Only a short walk from the road, natural rock benches allow an intimate view of the the water as it cascades down a stair rock formation.

Hike Difficulty: Moderate

Directions: Take HWY 441 toward Clayton. After crossing the Tallulah Falls Bridge, go 1.7 miles and turn left onto Old HWY 441. Proceed 2.5 miles and turn left onto Lake Rabun Road. Travel 5 miles to Rabun Beach Campground.

From the Area 2 campground entrance, continue west on Lake Rabun Road for 1.6 miles. Turn left onto Low Gap Road for 0.2 miles. Make another left onto Bear Gap Road and proceed 1.6 miles to the Minnehaha Trail. Follow the trail 0.3 miles to the falls. Parking near the trailhead is limited.