Dams do not regulate the Ogeechee. The river rises and falls according to the amount of rainfall in its watershed, creating a unique fishing opportunity. This natural fluctuation in river level plays an important role in fish growth.

The Ogeechee River originates in Taliaferro County, at the confluence of the North and South forks. It flows southeastward for approximately 250 miles to empty into Ossabaw Sound and the Atlantic Ocean. The Canoochee River is a tributary to the Ogeechee River, joining it along the Bryan/Chatham County border.
Best Fishing Bets
Redbreast sunfish, largemouth bass, black crappie and catfish
Oconee River Fishing Tips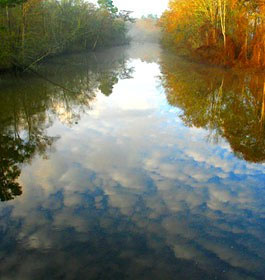 Bream

- The Ogeechee River contains one of the best redbreast sunfish fisheries in the state. Redbreast reproduction has been adequate in the past few years, but the growth of these fish has been poor due to the drought and low river levels. Until river levels return to normal, expect catches of large redbreast to be less than optimal. In addition to redbreast sunfish, other bream species present include bluegill, redear sunfish and spotted sunfish.



Technique

- Crickets and worms fished under a bobber are effective live bait techniques. For artificial lures, consider small beetle spins, rooster tails, and popping bugs.



Target

- Redbreasts are plentiful in backwaters and slower moving sections of the main channel.



Crappie

- Scattered pockets of black crappie provide exciting cold-weather fishing.



Technique

- Small minnows are the most popular live bait. Small artificial jigs (screw tail or feathered) also can be effective.



Target

- From Hwy 204 upstream as far as Jenkins County. Fish tend to be concentrated around submerged trees and brush around the mouths of oxbows.
Largemouth Bass

- The Ogeechee has a healthy largemouth population. The fishing is best during the springtime, particularly in April, as water temperatures rise.



Technique

- Spinner baits along banks; flipping jigs and worms into tight cover along banks.



Target

- One of the better areas is the railroad trestle upstream of the boat ramp on Highway 56 in Midville where largemouths up to 6 pounds commonly are caught.



Catfish

- White catfish, channel catfish and bullheads are plentiful.



Technique

- Typical catfish bait (i.e. worms, cut-bait, etc.) fished near the bottom of the river in relatively deep holes produce good results.



Target

- Catfish are generally concentrated where there is a combination of swift water and heavy cover. White catfish abundance increases closer to the estuary.
Additional Info
Flathead catfish are non-native to the Ogeeche River and an illegal introduction of the species would be devastating to native fish populations. Report any information regarding the illegal introduction of flatheads into the river by calling the TIP line at 1-800-241-4113, 24 hoursa day, 7 days a week.
Contact Info
Wildlife Resources Division, Richmond Hill Fisheries office -

Phone

: 912-727-2112


Print a Travel Region Map
Check These Out:


Georgia Lakes

WMA Public Fishing Areas

GA Fishing Lakes

Georgia Rivers & Map

GA Lakes & Rivers Map

Water Safety

Fishing Trip Checklist