Best Fishing Bets
Redbreast Sunfish, Bluegill, Crappie and Bullhead Catfish
Satilla River Fishing Tips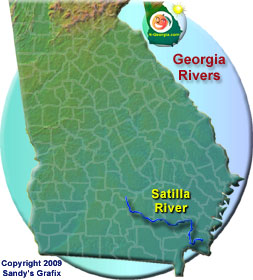 Bream - One of the premier

redbreast sunfish

rivers in the southeast, and an angler's best best for catching a redbreast greater than 1 pound. Annual sampling revealed large numbers of small redbreast. Water levels in the river have been on the rise and if these flows persist through March, anglers should catch several large redbreast each trip.

Bluegill

and

spotted sunfish

are also plentiful in the Satilla. Like redbreast, their numbers and size are highly dependent upon high water levels throughout the winter and early spring.



Technique

- For redbreast: Crickets and worms fished under bobbers or on the bottom with split-shot weights works best. Try switching to artificial lures such as small beetle spins and rooster-tail spinners when water temperatures rise into the 70s (F). Also attempt fly-fishing as the water warms. Stick to crickets and worms for other bream species.



Target

- For redbreast: Concentrate fishing efforts around woody cover in the mainstem of the river. For bluegill: Target oxbow lakes and beaver ponds off the main river channel; particularly oxbow lakes in the lower section of the river around the Burnt Fort area.
Crappie

are present throughout the river. Try fishing for crappie when conditions are too cold for targeting bream and bass.



Technique

- Live minnows and small artificial jigs are recommended.



Target

- Try fishing woody cover in slack-water away from the main channel.
Catfish

fishing should remain good this year. The river supports healthy populations of snail, yellow and brown bullheads and channel catfish.



Technique

- Use worms, chicken livers, cut bait or your own secret bait fished on the bottom.



Target

- Fish the deeper holes, which are usually located on outside bends in the river.
Largemouth Bass

- Though not known for its bass population, largemouth are present in sufficient numbers in the Satilla. Expect most catches in the 10 to 12-inch range, but the occassional lunker is lurking.



Technique

- Typical bass lures work, but it's hard to beat a shallow-diving minnow plug during the spring.



Target

- As the river begins to fall in the early spring, target woody cover near the mouths of oxbow lakes and feeder creeks.
Additional Info
Refer to the USGS gauges located at Waycross, GA and Atkinson, GA when planning your fishing trips. Fishing conditions are best when the USGS gauge reads between 4-8 feet at Waycross and 3-7 feet at Atkinson. Satilla River gauge information.
Contact Info
Wildlife Resources Division, Waycross Fisheries office -

Phone

: 912-285-6094