The Oconee flows through Milledgeville, Greensboro, Madison, Lumber City and Athens Georgia. It flows southwest for about 265 miles where it joins the Ocmulgee to form the Altamaha River. The upper portion includes bedrock outcroppings, stable bank cover and a gravel bottom, while the lower part features cutaway sand banks, fallen woody debris, and a river bottom of primarily sand and silt.
Best Fishing Bets
White Bass, Black Bass, Crappie, Bream and Catfish
Oconee River Fishing Tips
White Bass - March through April are the best months to target white bass, as they make spawning runs up the Oconee and Apalachee rivers.



Technique

- During spawning runs, use little George's, rooster tails, small lipless crankbaits, white, green, yellow and chartreuse 2-inch curly tail grubs, in-line spinners, and live minnows and small shad.



Target

- These fish can be caught on sandbars and deep river-bends, but prime locations are below the Barnett Shoals Dam south of Athens and in creekmouths between the dam and Lake Oconee.



Black Bass

- Both largemouth and redeye bass are available. The lower section holds good amounts of largemouth, and this year's sampling effort indicates greater numbers than previous years. The majority of catches will measure less than 12 inches. Approximately 20 percent measure greater than 14 inches, and the occasional 20-plus inch fish is available.



Technique

- Classic largemouth baits are a chartreuse/white snagless sally, plastic jerkbaits, spinnerbaits or a pig and jig. Also try small soft plastics, large spinners and shallow diving crankbaits for both species of bass.



Target

- Find redeye bass in the swifter water sections having bedrock outcroppings. Target largemouth by fishing the shoreline near fallen trees with moderate current and gradually work into slacker water areas with good cover.
Crappie

- Good numbers of harvestable-size crappie are available. Fish from February through April for large numbers and large fish.



Technique

- Fishing small live minnows and blue/black, blue/chartreuse, white, green or yellow artificial jigs with or without a bobber is effective.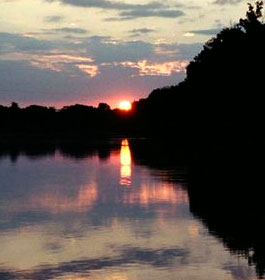 Target

- In the spring, target standing timber and blowdowns in Sugar Creek and the upper end of the lake, as well as the upper ends of other major creek arms, such as Richland, Sandy and Lick creeks. These areas typically warm up first, provide good structure for baitfish and usually hold more fish. Crappie will stack up below Barnett Shoals Dam in early February and also concentrate toward creekmouths near the main lake and gradually move towards shallow water as temperatures rise in spring.

Fish woody cover in slack water areas near creekmouths and creekarms on the lower Oconee. When water temps reach the low 60s (F), target bedding crappie around shallow cover and move to deeper waters after the spawn. When fishing shallow water you may only catch small males but if you fish the deeper water nearby your chances of catching larger females increase.



Bream

- Expect lower harvest rates this year when fishing for bream. Bluegill make up approximately 30 percent of the population, with average fish greater than 6 inches and a few ranging 7-10 inches. Redbreast sunfish make up about 20 percent and average 6 inches.



Technique

- In the lower Oconee, try fishing close to cover with catalpa worms or crickets with split-shot and a float. Otherwise, use ultra light gear rigged with a small rooster tail or beetle spin. Also try wading the shoals with a 6-8 weight fly rod rigged with a small popper.



Target

- In the upper Oconee, target areas that have bedrock shoals. In the lower section, look to locations near creek mouths or deep eddy pools near swift current.
Catfish

- Expect plenty of smaller channel and white catfish throughout, as native catfish populations are shifting due to the recently introduced blue and flathead populations. Blues and flatheads continue to expand their population and numerous 30-plus pound flatheads have been caught in recent years.



Technique

- Live shad or bluegill and cut bait are best bets for flatheads, and hot summer nights are the best time to cast a line. Also try worms or cut bait fished on the bottom. Anglers are encouraged to harvest all flathead catfish!



Target

- During warm summer months, morning and night fishing are particularly good for all catfish. Their consistent bite make them an ideal species when introducing children to fishing.
Additional Info
A 2 to 6-foot USGS river gauge height is ideal for fishing. Levels below this mark make navigating difficult, while levels above this mark typically means there is too much water in the river for productive fishing. View USGS River gauge information.
Contact Info
Wildlife Resources Division, Waycross Fisheries office -

Phone

: 912-285-6094


Print a Travel Region Map
Check These Out:


Georgia Lakes

WMA Public Fishing Areas

GA Fishing Lakes

Georgia Rivers & Map

GA Lakes & Rivers Map

Water Safety