Located within the Chattahoochee National Forest in northeast Georgia, the Russell Brasstown Scenic Byway is a 41-mile loop revealing some of the most dramatic scenery in the state.



Russell Brasstown Scenic Byway Driving Tour




Tour Description:

Included on this route is Brasstown Bald, Georgia's highest mountain. Located near the byway is the Bavarian-themed town of Helen. Following State Highways 348, 180, and 17/75, the loop encircles Wildlife Management Areas, the headwaters of the Chattahoochee River, and a section of the Appalachian Trail . Nearby Vogel and Unicoi State Parks offer numerous recreational opportunities in addition to the camping, fishing and hiking facilities found along the Byway.

Cool in the summer, mild in the winter, this Byway beckons you to lose yourself in its luscious timberland. Linger atop Brasstown Bald (Georgia's tallest mountain) to absorb all 360-degrees of rolling highlands. Escape the crowds and retire to the cooling mists of the Byway's numerous waterfalls. Got a hanker for a hike, but the Appalachian Trail isn't what you had in mind? Sparkling waterfalls and secluded valley views are just a short stroll from the main road. The average weekend hiker could spend years exploring these trails and never retrace a step. Share a meal at a cozy picnic site or break bread in a real Bavarian hamlet enveloped in the Georgian mountains. Whether you're looking to hike the hinterland or lounge in a lazy village, the Russell-Brasstown Byway is an ideal get-away.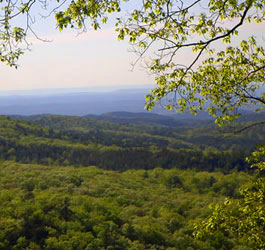 The Chattahoochee River's Headwaters (GA)
Scenic wonders abound in this region of North Georgia. Venture into the Tray Mountain Wilderness, a 1,600 acre paradise for the whole family.

Send your outdoorsmen to hunt the wild turkey, whitetail deer, quail, and even feral pigs that thrive in its rugged acres. Tramp down the paved path to Anna Ruby Falls and see where two creeks converge in the rare, 150-foot twin falls.

Try to discover elusive Hidden Creek, which runs clear and cool for a day before it disappears. See the three tiers of Raven Cliff Falls, including its 100 foot cascade through a split in a solid rock outcropping. It is also an ideal destination for viewing dazzling fall color in the Chattahoochee-Oconee National Forest encircling the Byway.

State parks like Unicoi, a rustic haven of cottages and campgrounds, and Vogel, with its blazing expanse of wildflower trails, are easily accessible from the Byway.



Roads Included in Byway




SR 75 Alternate from SR 17 / 75, west to SR 348

348 from SR 75 Alt., northwest to SR 180


SR 180 from SR 348, east to SR 17 / 75

SR 180 Spur north from SR 180


SR 17/75 from SR 180, south to SR 75 Alt.
Places to Visit in Driving Tour


Andrews Cove Recreation Area off State Route 17/75, offers visitors relaxing camping, fishing, and hiking opportunities. Picnic tables, grills, and tent pads are provided at the 11 camp sites situated along Andrews Creek. Trout fishing enthusiasts can put their skills to the test in the creek's cool waters. The 2-mile Andrews Cove Trail, running parallel to the creek, follows an old logging road and connects to the Appalachian Trail.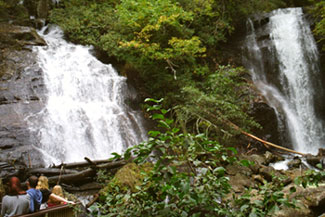 Anna Ruby Falls Scenic Area, GA - These twin waterfalls are a dramatic sight, with Curtis Creek dropping over 150 feet and York Creek falling 50 feet to form Smith Creek.

Flowing down Tray Mountain, Curtis and York Creeks come together dramatically at Anna Ruby Falls. The twin waterfalls are a memorable sight with Curtis Creek dropping over 150 feet and York Creek falling 50 feet to form Smith Creek. The falls are the highlight of this 1,600 acre Scenic Area though visitors can also enjoy hiking trails, picnic facilities, and the visitor center.

Appalachian National Scenic Trail, GA - Stretching over 2,000 miles from Georgia to Maine, the Appalachian Trail is one of the ultimate hiking opportunities and destinations in the United States. The AT's nearly 80-mile journey through Georgia takes it across the Russell-Brasstown Scenic Byway at Hogpen Gap (SR 348) and Unicoi Gap (SR 17/75). This famous trail travels through dense forests while it runs atop numerous mountain ridges, often providing beautiful vistas. Parking and interpretive facilities are provided at both Byway crossings.



Brasstown Ranger District

- 706-745-6928 - Chattahoochee-Oconee National Forest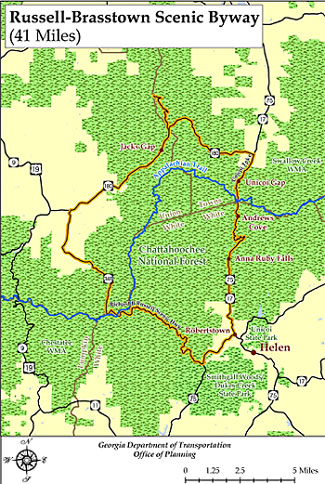 Print the Russell Brasstown Scenic Byway Driving Tour Map
Directions:

There is 1 way to reach the Russell-Brasstown Scenic Byway: Take I-985 north which becomes US 23 - North on US 23 to SR 384 - North on SR 384 to SR 75 North on SR 75 - The byway begins at the intersection of SR 17/75 and SR 75 Alternate


Print a NE GA Mountains Travel Region Map

NE GA Mountains Fun:

Festivals & Events

Free Indoor Activities

Tourist Centers

Travel Region Info

Russell Brasstown Scenic Tour Printable Map