Beginning at historic Prater's Mill in Whitfield County, the Cohutta-Chattahoochee Scenic Byway follows State Route 2 past rolling pastoral lands into Murray County.
Cohutta-Chattahoochee Scenic Byway Driving Tour
Description:
Breathtaking views of the Cohutta Mountains emerge as the route continues along US 41 and quiet county roads into the Chattahoochee National Forest.

The 54-mile route skirts the town of Chatsworth before traveling up State Route 52, passing Fort Mountain State Park and ending at a scenic mountaintop overlook. Spurs off the route take visitors to the Cohutta Wilderness, Prater's Mill Site, The Scenic Overlook on Hwy 52, Cohutta Fish Hatchery and to a Forest Service camp site at Holly Creek.



See a bird's eye view video when you visit Fort Mountain State Park.


See a bird's eye view video when you visit the Chattahoochee Forest Cohutta Overlook.



When you are in the northwest Georgia mountains area, check out this Overlook. It's a great place to stretch your legs and enjoy beautiful nature at it's best. This is close to many other exciting places to visit and only takes a couple of minutes of visit.

The purpose of a scenic byway is to preserve the natural beauty along the designated route.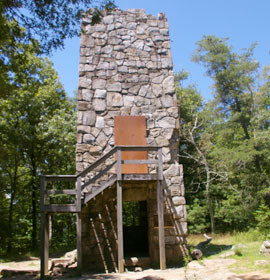 Roads Included in Byway are: SR 52, Holly Creek-Cool Springs Road, Old CCC Camp Road, Crandall-Ellijay Road, Summerour Road, SR 2, Crow Road, McGaughey Chapel Road, Cohutta-Beaverdale Road, Hopewell Road, Old Dalton-Cleveland Road, Stancil Road, Wilson Caldwell Road and Red Clay Road.

The Cohutta-Chattahoochee Scenic Byway contains beautiful countryside, breath-taking views and possesses all six intrinsic qualities. Three trailhead locations have been designated along the 54-mile route to highlight the intrinsic qualities. Each trailhead emphasizes two intrinsic qualities unique to that location: Fort Mountain Overlook - Archaological and scenic; Prater's Mill Site - Historic and Cultural; and the Cohutta Fishery Center - Natural and Recreational.

Information Kiosks with scenic byway maps and materials explaining the intrinsic qualities of that particular site, as well as information about all three sites are located at each of the three trailheads to encourage and highlight your travel along the route.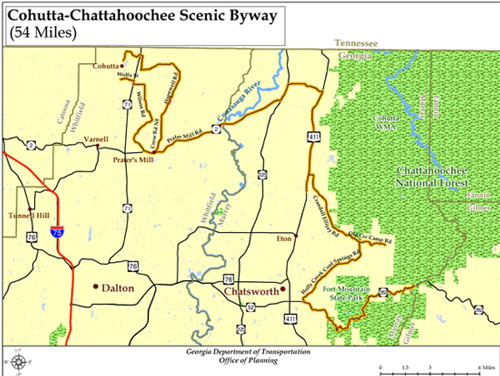 Print the Cohutta-Chattahoochee Scenic Byway Driving Tour Map
Directions:

There are two ways of reaching the Cohutta-Chattahoochee Scenic Byway:
Take I-575/State Route 515 to State Route 52 - Turn west on SR 52 - The byway will begin at the overlook in Murray County

-or-

Take I-75 to Exit 341 - Turn north on SR 201 - Turn right on SR 2 - The byway will begin at Prater's Mill


Cohutta-Chattahoochee Scenic Tour Printable Map
More scenic driving tours

Altamaha

Cohutta-Chattahoochee

Historic Piedmont

Meriwether Pike

Monticello Crossroads

Ridge And Valley

Russell Brasstown

South Fulton