Meriwether Pike Scenic Byway Driving Tour




Tour Description:

From Gay, the route extends eastbound along Flat Shoals Rd across the Flint River and turns southwest on SR 18 to Molena. This route follows SR 18 back to SR 85 south of Woodbury to Manchester and follows SR 190 back to Warm Springs. E

The Meriwether-Pike County Scenic Byway celebrates the unique legacy of President Franklin Delano Roosevelt. During the 1920s, 30s, and 40s, President Roosevelt came to Warm Springs in hopes that the therapeutic warm springs would help improve his polio-stricken legs. He built a home in Warm Springs, the Little White House, which is now operated as a state historic site. The Meriwether-Pike County Scenic Byway offers several other attractions including the Big Red Oak Covered Bridge, the Oakland Baptist Church, and Jones Mill, where a large grist mill and mill pond are the only reminders of a once-thriving farm community.

Roads Included in Byway are SR 85, SR 109, SR 190, GA Highway 18, Covered Bridge Road, Massengales Mill Road, Flat Shoals Road, Cove Road and Pebblebrook Road.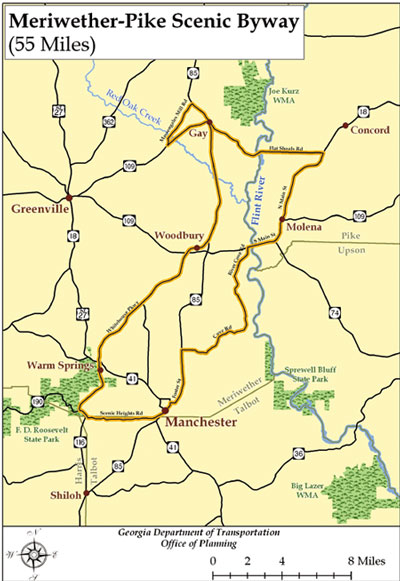 Print the Meriwether Pike Scenic Byway Driving Tour Map

Directions: There are several ways of reaching the Historic Piedmont Scenic Byway:

Take I-85 to Exit 41 - South on US 27-Alt (Roosevelt Highway) - Byway begins at intersection with SR 85

Take I-85 to Exit 51 - East on SR 154 - Turn right onto SR 54 - Turn left onto SR 16 - Turn right (south) onto SR 85 - Turn left onto SR 16 - Byway begins at intersection at Massengales Mill Rd

Take I-85 to Exit 18 - East on SR 109 - Make a slight left onto SR 18/109 going east - Byway begins at intersection with SR 85 - or -

Take I-75 to Exit 235 - South on Tara Boulevard/SR 7 - Road becomes US 19/SR 3 - Turn east onto SR 109 - Byway begins at intersection with SR 18

Meriwether Pike Scenic Tour Printable Map

More scenic driving tours

Altamaha

Cohutta-Chattahoochee

Historic Piedmont

Meriwether Pike

Monticello Crossroads

Ridge And Valley

Russell Brasstown

South Fulton