Georgia Coast and Islands Travel Region Cities Map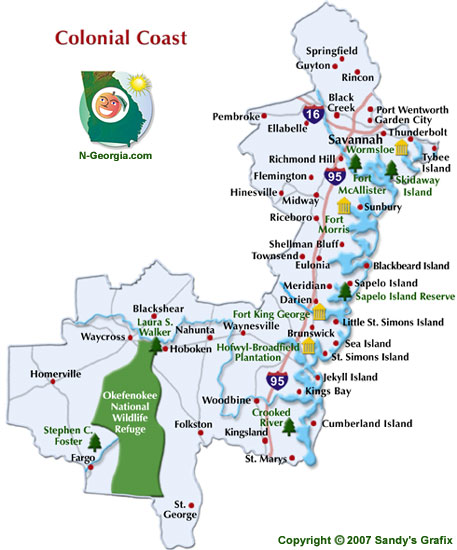 Cities in the Georgia Coast and Islands Travel Region include: Blackbeard Island, Black Creek, Blackshear, Brunswick, Cumberland Island, Darien, Ellabelle, Eulonia, Fargo, Flemington, Folkston, Garden City, Golden Isles, Guyton, Hinesville, Hoboken, Homerville, Jekyll Island, Kings Bay, Kingsland, Little St. Simons Island, Meridian, Midway, Nahunta, Patterson, Pembroke, Pooler, Port Wentworth, Riceboro, Richmond Hill, Rincon, Sapelo Island, Savannah, Sea Island, Shellman Bluff, Springfield, St. George, St. Marys, St. Simons Island, Sunbury, Thunderbolt, Townsend, Tybee Island, Waycross, Waynesville, and Woodbine
Explore Coast and Islands State Parks & Historic Sites - Crooked River State Park, Fort McAllister Historic State Park, Laura S. Walker State Park, Sapelo Island Reserve and Reynolds Mansion, Skidaway Island State Park, Stephen C. Foster State Park, Fort King George State Historic Site, Fort Morris Historic Site, Hofwyl-Broadfield Plantation Historic Site and Wormsloe State Historic Site
Visit Coast & Barrier Islands Travel Region Festivals, Fairs & Events - Enjoy fun festivals, fairs, holiday events, free events, beach events and special events on the Georgia coast. Listings contact numbers, dates, times, fees and other information included.
Discover Georgia's Coast and Islands Quaint Museums and Art Galleries - Featuring a variety including the Beach Institute and African American Museum and Cultural Center, Cumberland Island National Seashore Museum, Fort Stewart Military Museum, Geechee Kunda Cultural Arts Center and Museum, St. Simons Lighthouse and Museum and more.
Cool off at GA's Coast and Islands Fishing Lakes - Refresh yourself and stay cool by visiting a GA lake. Many offer fun activities for everyone which includes fishing, swimming, boating, camping and nature hiking! Activities, contact info and locations are listed. Some lakes are public and others are individually owned. Some restrictions apply. Please call them for more info.
Fun Free Things To Do Indoors at Georgia's Coast and Islands - Great activities and places to go include live music, historic sites, quaint churces, Civil War cemetaries, old jails, historical and genealogical societies, and more. Some historic sites date back into the 1700's. These places are perfect for family, friends and groups.
Fun Free Things To Do Outdoors at Georgia's Coast and Islands - Activities include swamp parks, nature trails, bamboo garden, marine sanctuary, nature preserve wetlands centers, national wildlife refuges, outdoor walking and driving tours and more.
Georgia's Coast and Islands Places To Do for $5 and Under - These activities include museums, an auqarium, a marine science center, a lighthouse, botanical gardens, national monuments, historic sites and more.
Georgia's Coast and Islands Travel Region Tourist Centers - Looking for information for your trip or move to Georgia? These local Chambers of Commerce, Welcome Centers, Convention and Visitor Bureaus, and Visitor Centers can send information and maps right to your doorstep.
Loading

Colonial Coast GA Travel Region Printable Map

GA's 9 Travel Regions