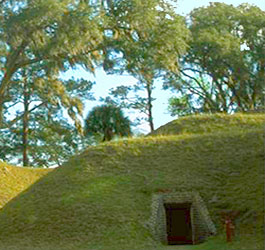 Located on the bank of the Great Ogeechee River south of Savannah Georgia, this 1725-acre park is the home of the best preserved earthwork fortification of the Confederacy.

Park Amenities & Activities - See giant live oaks and beautiful salt marsh, this park is a quiet location for camping, hiking, fishing and picnicking.

65 tent, RV and trailer campsites

1 pioneer campground

1 Backcountry Campsite

3 Cottages

2 picnic shelters

1 Group Shelter

best preserved Earthwork Fort

fortification of the Confederacy

Self-guided fort tours using video, museum and fort guide or call for reservations.

Civil War museum and Gift Shop

Playgrounds

seasonal canoe rentals

boat ramp

boat dock

private boats allowed

water skiing

saltwater fishing

fishing pier

4.3 miles of hiking and biking trails

Bike rentals

Birding Colonial Coast Birding Trail

GeoCaching

Weddings (park approval required)

Home of the End of General Sherman's infamous March to the Sea.
Cottage
Two bedroom cottage. Cottage is 14 feet off ground. Has two double beds in each bedroom. Sleeps 8. Has two bathrooms right off of bedrooms. Bed and bath linens provided. Fully equipped kitchen with microwave and dishwasher. Heat/AC. TV. No phone. Screen porch overlooks marsh.
Campgrounds
60 foot campsites

hold the following equipment: 1 tent, 2 tents, a pop-up trailer, a trailer up to 60', or a motorhome up to 60'. Each site has water, 30 amp electrical service, picnic table, grill. Some sites have fire ring. No cable hookups. Comfort station has washer/dryer. Maximum 6 people per site. Maximum 2 vehicles per site. Park is woodsy and has good fishing pier.
Pioneer Campsite

- This is a primitive, rugged site for groups only. 10 person minimum. Site is located by itself. Sites have water but no electricity. Sites have adirondack shelter, fire ring and shared pit toilets. This area is for hike in campers only.
Group Shelter

- Enclosed shelter. Located in the Day-Use area are; fishing pier, open field, and soda machine. Has kitchen, restroom, heat, air conditioning, and fireplace. Utensils, cookware, and dishes not provided. All visitors are required to have parkpass.
Picnic Shelters
Picnic Shelter 1

- This is an open-sided covered shelter. May be referred to as picnic shelter "L". Shelter is located next to the museum in the day-use area. Day-use area has two playgrounds, a fishing pier, open field, and soda machine. Accessible restrooms nearby. Shelter is within easy walking distance to historic fort, museum, and hiking trails.
Picnic Shelter 2

- Open-sided covered shelter. Located in the Day-Use area; two playgrounds, fishing pier, open field, and soda machine. Accessible restrooms nearby. Shelter is easy walking distance to Historic Fort, Museum, & hiking trails.
Hours and Fees
Park Hours

- 7 am - 10 pm -

$5

Parking Fee
Contact, Address, Driving Directions and Map
Phone:

912-727-2339 at 8 am - 5 pm

Campsite and Cottage Reservations:

1-800-864-7275

- Address

: 3894 Fort McAllister Road, Richmond Hill, Georgia 31324 -

Located

10 miles east of I-95 pm GA Spur 144. Take I-95 to #90. Park Facilities Map
Reservations Cancellation Policy

Cancellation of a reservation must be made at least 3 days prior to the date of arrival in order to receive a refund. A $10 cancellation/handling fee per reservation will be charged. Changes in arrival date made less than 3 days prior to the scheduled arrival will constitute a cancellation and forfeit of the deposit. 7-14 day Cottage Reservation Guidelines: All cancellations received 30 days in advance will receive deposit refund minus the $10 cancellation fee per facility.

If a customer requests to cancel less then 30 days in advance but before 72 hours of arrival, the customer may request refund in witting to the site. If cottage is rebooked for the time period originally reserved, site will have Customer Service issue a full refund to the customer minus $10 cancellation fee. If reservation is cancelled within 72 hours of arrival date no refund of the one night deposit will be given. Deposits are required for all reservations. Credit card deposits are posted when the reservation is made.



Check-in - Check-in is between 1 pm and 10 pm and check-out is before 1 pm. Campers must register and present a reservation confirmation before setting up. If you do not arrive on the first night of your stay, you will be counted as a no-show, your reservation will be cancelled, and you will forfeit your deposit.



Reservation Changes

(Changes in arrival dates, transfers, etc.)
You may make one change without a charge, provided a 3-day notice is given. Additional changes will incur a $10 per reservation handling fee.
Loading

Check Out:

State Park Waterfalls

State Park Fishing Tackle Loaner, Free Park Pass Loan and Jr. Ranger Gopher Badge Programs

Walk on the Wild Side