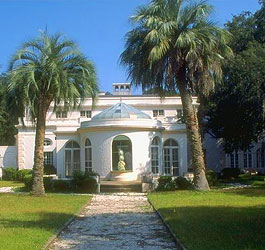 After a 30-minute ferry ride, arrive at this 11-mile-long island. See squadrons of brown pelicans fly into an endless horizon. The sand dunes hold stories of pirate treasure long buried. Guided tours highlight the African-American community of Hog Hammock, Reynolds Mansion, Nanny Goat Beach, University of Georgia Marine Institute and a restored 1820 lighthouse.

Park Amenities & Activities - 6110 acres

16,006 acre barrier island composed of salt marsh, and complex beach and dunes systems

group pioneer camping

Reynolds Mansion Lodge - accommodates 16-29 people - reservations required

wireless Internet available

Visitor Center (in Meridian)

Cabretta Pioneer Campground: Groups of 15-25 may camp near the beach on Sapelo's Cabretta Island. Hot showers available.

guided tours highlight Hog Hammock African American community, University of Georgia Marine Institute, Reynolds Mansion and the 1890 Lighthouse marsh and beach walks

Guided Tours (reservations required)

Marsh and Beach Walks

Comfort station with hot showers available.
The Reynolds Mansion
The Mansion can accommodate up to 29 guests in 13 bedrooms with 11 bathrooms. Meetings are out of the ordinary when held in the ornately decorated Circus Room, sporting the wild animal murals of famed Atlanta artist, Athos Menaboni, whose work appears throughout the house.

The original Mansion was designed and built from tabby, a mixture of lime, shells and water, by Thomas Spalding, an architect, statesman and plantation owner who purchased the south end of the island in 1802. The Mansion served as the Spalding Plantation Manor from 1810 until the Civil War. It fell into ruin after being damaged by Union attack during the Civil War and was later purchased and rebuilt by Detroit automotive engineer Howard Coffin in 1912. Tobacco heir Richard Reynolds purchased the property in 1934, donating land and facilities to the University of Georgia for marine research. Following Reynolds' death in 1964 the Mansion and most of the island was obtained by the Georgia Department of Natural Resources in 1975. Sapelo Island National Estuarine Research Reserve and University of Georgia Marine Research Facilities are still located on the island.
Guests can spend an entire visit to the island just exploring Reynolds Mansion and the expansive grounds, where sculptures entertain and engage visitors in the filtered light beneath massive live oaks. The Mansion's unique architecture creates many interesting and memorable spaces, as well as private spots to read or reflect. The library is a bibliophile's dream, complete with the original nameplates in many volumes from Mr. Reynolds' private collection. The Game Room's billiards and table tennis are available for our guests enjoyment. The Mansion's grounds are linked by pathways to the Atlantic Ocean where a beachfront pavilion await your picnic plans. Swimming, fishing, hiking and birding on miles of unspoiled beach offer endless possibilities for relaxation and reflection.

The Reynolds Mansion is available only for group bookings of 16-29 adults with a two-night minimum. We are sorry that we are not available for individual guests. For group info and reservations, please contact Vickie Slack at 912-485-2299.
Secluded Sapelo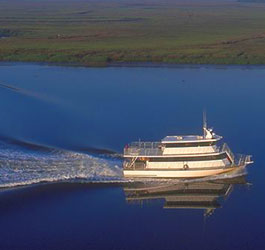 Sapelo Island is steeped in the history that parallels its ownership. Early Guale Indian Native American settlements are scattered across the island, and Spanish, English and French occupation each succeeded one another until Thomas Spalding purchased a portion of the island and built what is now Reynolds Mansion. Tales of pirate treasure and Civil War battles, of the glorious old South and the industrial magnates that came to find seclusion and serenity are woven into the story of Sapelo Island. Charles Lindbergh took off from its shores, and American presidents from Coolidge to Carter have walked the Sapelo beaches.

Today, it's a place where guests can explore Georgia's fourth largest barrier island on foot, bicycle, van or even rented ocean kayaks. The lush forest surrounds guests in a sea of green almost year round, and exploring the island's 11-mile length and four-mile width is certain to produce sightings of whitetail deer, raccoon, opossum, wild turkey armadillo and other animals.
The rare Guatemalan Chacalaca, imported as a gamebird, now runs wild in the forest, as do wild hogs and cattle, descendants escaped from the farms of Sapelo's early settlers. Sapelo is a birders paradise, with many different shorebird and indigenous species calling the island home permanently or seasonally.

The only private parcel of land is the tiny island community of Hog Hammock, populated primarily by descendant workers from the Spalding plantation. A small general store, snack bar and curio shop comprise the business community of Hog Hammock and the local residents will be glad to see you during your visit. Scattered across the island, visitors will see evidence of the island's settlement, including Reynolds Chocolate House cottage, a landing strip, old post office and the ruins of several tabby-constructed structures dating back to the plantation days.
On the island, nature and history intertwine
Beaches stretching as far as the eye can see define the Sapelo experience. The Atlantic surf constantly changes and redesigns the undeveloped shoreline, and the salt marshes around Sapelo's undisturbed sand dunes represent a unique ecosystem found only along the barrier islands.

On the extreme southern tip of the island, Sapelo Lighthouse stands as the remaining sentinel of a bygone era, watching over Doboy Sound and the Atlantic Ocean. Once crowded with commercial vessels, the sea-lanes are now plied primarily by pleasure craft, and the restored 80-foot lighthouse serves a mostly symbolic role, after a steel tower outfitted with modern navigation aids was erected nearby as a replacement.

The original lighthouse was first erected in 1820 for $14,500. Damaged several times by hurricanes over the years, it was eventually replaced and then deactivated in 1933. It was renovated in 1998 including a new spiral staircase, new lantern glass and light, and the spiral-striped exterior identical to the structure's original paint scheme. The five-acre lighthouse tract was sold to the federal government for $1.00 in 1808 by Thomas Spalding, and the original 65-foot structure was topped by a 15-foot whale-oil lantern.
Special Programs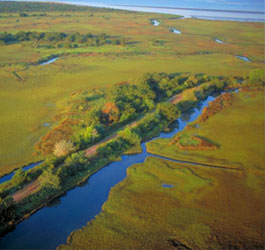 Guided public tours of the island and Mansion are conducted during the morning (except holidays). Through these tours you will experience the ecological, historical and cultural diversity of the island. The charge for this tour is $8.00 per person and arrangements can be made through the Visitor's Center at 912-437-3224. All supervised tours view the common/public areas of the Mansion and are not permitted in the residential and kitchen areas.

The Georgia Department of Natural Resources and the Sapelo Island National Estuarine Research Reserve work closely together managing the island's resources. This relationship offers our guests access to the island resources both agencies offer. Guided interpretive tours of the mansion, slide shows of the island, interpretive beach walks and other ecological or scientific presentations can be arranged through the conference coordinator with advance notice. Special outings, cookouts, picnics and other group activities are also possible with advance notice when booking your reservations.
Guided Tours
Reservations required. Wednesday 8:30 AM-12:30PM (mansion and island) and Saturday 9AM-1PM (lighthouse and island). From June through Labor Day, an additional tour is offered Friday 8:30AM-12:30PM (lighthouse and island). Extended tour offered the last Tuesday of the month, March-October, 8:30AM-3PM (lighthouse, mansion and island). For guided tour reservations, call 912-437-3224.
Island Access

True to the maritime environment of the island, your arrival at Sapelo is aboard the Georgia Department of Natural Resources ferry provided for visitors and residents alike. Your conference coordinator will make the ferry arrangements for your group, and the $10.00 per person round-trip fee is paid at the ferry dock. The half-hour ride from the Meridian Dock will immerse your group in the sounds, sights and smells of tidewater Georgia estuarine system, and will prepare you for the focus and solitude a visit to Sapelo can bring. Gulls and shorebirds will chase the ferry across the sound, serenading you with screeches as they dive for baitfish in your wake. Playful dolphins often provide escort alongside the ferry, as you share the ride with schoolchildren and other island residents.

When you arrive at Sapelo, the duty officer will greet you at the ferry dock and assist in loading luggage into air-conditioned vans for your group's ride to the Reynolds Mansion. The vans are also available for your groups use during your stay. Because of the unique ecological and archeological aspects of Sapelo, very stringent and specific rules apply to island guests. A complete guide to these rules can be obtained during your stay.

The mainland ferry dock, visitor center and parking areas are located in Meridian, Georgia, 8 miles east of Darien. From I-95, take exit 58 on GA HWY 57 to HWY 99.
Campgrounds
Pioneer Campground -

Groups of 15-25 may camp near the beach on Sapelo's Cabretta Island. Hot showers available.

Note

: Due to health and sanitation policies, we regret that pets are not allowed.
Hours
Visitor Center:

Tuesday-Friday 7:30AM-5:30PM; Saturday 8 AM-5:30PM; Sunday 1:30-5PM; Closed Monday.
Contact, Address and Driving Directions Info
Office Phone

for Reynolds Mansion and Group Camping 912-485-2299 -

Tour Reservations:

912-437-3224 -

Address:

Sapelo Island Visitors Center Route 1, Box 1500, Darien, GA 31305 -

Mailing Address:

1766 Landing Road, Sapelo Island, GA 31327 -

GPS Coordinates:

N 31.398116 and W -081.276666 -

Location:

The Sapelo ferry and visitor center are located in Meridian, 8 miles northeast of Darien, off Ga. Hwy. 99.
Loading

Visit:

State Park Waterfalls

State Park Fishing Tackle Loaner, Free Park Pass Loan and Jr. Ranger Gopher Badge Programs

Walk on the Wild Side