Entrances listed here include the West , North, Suwanee River Sill and Kingfisher Landing entrances. There is a small entrace fee to these locations.
West Entrance - Stephen C. Foster State Park (Georgia State Parks)

- The address is 17515 Hwy 177 Fargo, GA 31631. This entrance is located on the west side of the refuge, near Fargo, GA on refuge land leased to the State of Georgia. Stephen C. Foster State Park offers campgrounds, cottage rentals, boat and canoe rentals, a playground and recreation area, a small museum, and a small store. State Park naturalists provide programs and information. The West Entrance has the same fee collection system as the east side, since it is located on refuge property. There is an additional fee for camping, boat rentals, and cottage rentals. Call 912-637-5274 for information.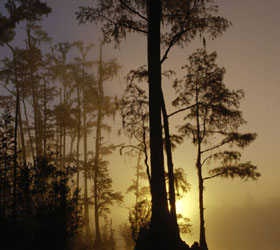 North Entrance - Okefenokee Swamp Park (private, non-profit) - The address is 5700 Okefenokee Swamp Park Road Waycross, GA 31503. Located just south of Waycross, GA on Highway 121, Okefenokee Swamp Park offers a different type of swamp access. It features a reconstructed pioneer village, souvenir sales area, serpentarium, boardwalk, and viewing areas for alligators, river otters, turtles, deer, and bear. There is an admission fee, with additional fees for boat tours. Five- and ten-mile tours are also available at an extra cost when water levels permit. 912-283-0583. General entrace charge.



Suwannee River Sill

- The sill is a secondary entrance to the swamp and is reached by the same road as Stephen Foster State Park. Visitors may launch boats (when water levels allow), fish, or hike along the 5-mile earthen dam. There is a parking area, information kiosk and composting toilet. Visitors must sign in and out of the landing for their own protection. Entrance fees are required at the Suwannee River Sill.



Kingfisher Landing

is located about 13 miles north of Folkston, on US Route 1/GA Hwy 121. It features a boat ramp, information kiosk, and restroom facilities for day-use and overnight visitors. Access to the Red and Green trails. Visitors must sign in and out of the landing, for their own protection. Entrance fees are required at Kingfisher Landing. Kingfisher Landing, 13 miles north of downtown Folkston. This entrance offers a boat ramp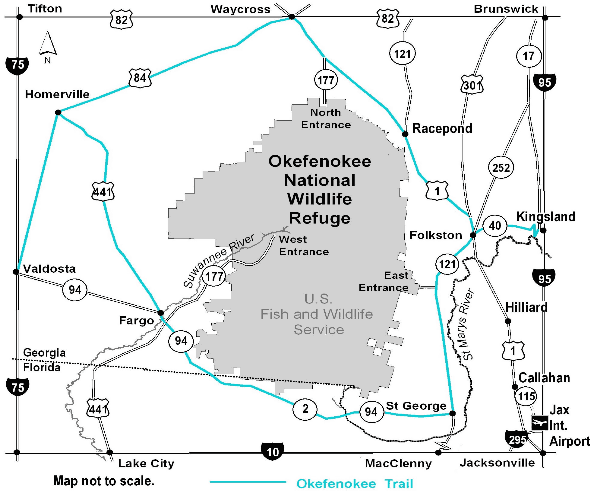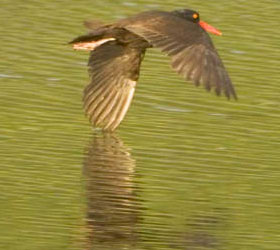 Hours of Operation - Open year round 9 am to 5:30 pm. Closed Thanksgiving Day, Christmas Eve and Christmas Day.



Phone:

404-679-4000 -

Call

912-496-7366 for photography info.

The Okefenokee Swamp is located in Ware, Charlton, and Clinch Counties, Georgia and Baker County, Florida.

There is another entrance to the Okefenokee National Wildlife Refuge at the East Entrance (Suwannee Canal Recreation Area)
Loading

Okefenokee Info

Okefenokee National Wildlife Refuge

ADA Accessability

Okefenokee NWR Wildlife Observations

Okefenokee NWR Hunting

Okefenokee NWR Fishing

Okefenokee Photography

Okefenokee Boating & Canoeing

Okefenokee Hiking Trails

GA Coast & Islands
Printable Map
Check These Out:

NPS Coast and Islands

GA Coast and Islands

GA Coast Events

Coast Free Things To Do

GA Coast Fishing Lakes

GA Coast Museums