Of the 120 miles of boat trails in the swamp, 70 miles of trail are also open to day-use motorboats 10 horsepower and under.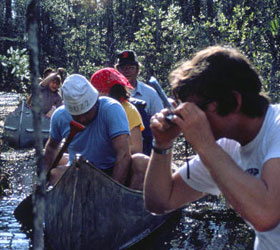 A canoe trip through the Okefenokee is an experience that will be remembered for a lifetime. Alligators glide through tea-stained water. Herons and egrets wade through tall grasses and water lilies. Privately owned boats, canoes and kayaks are permitted with no launch fee, however an entrance fee is still required. Motorboats with valid registrations and engines 10 horsepower and less may be used on specified trails within the refuge.

All boat users are required to sign in and out.



Boat Tours


Concessioner Okefenokee Adventures offers 90-minute guided boat tours that take visitors on a tour of the Suwannee Canal and Chesser Prairie, where one may see swimming alligators and wading birds in a primeval habitat.
Canoeing
A paddling trip through the Okefenokee is an experience that will be remembered for a lifetime. Alligators glide through tea-stained water. Herons and egrets wade through tall grasses and water lilies. Bears roam through hammocks and islands.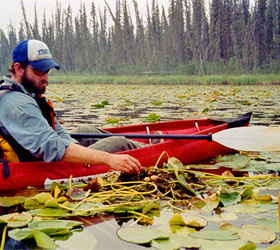 Okefenokee National Wildlife Refuge is a haven for these and other animals--almost 400,000 acres of wet prairies, cypress forests, and pine uplands. Most of the refuge is designated a National Wilderness Area.

Only seven overnight shelters are available in the swamp's interior (see map). Please read through this section carefully and understand all of the procedures and regulations. Remember: it is your responsibility to be prepared for a wilderness experience which may include temperature extremes, precipitation, high winds, challenging trails, and other factors.

Camping is permitted only at designated stops. There are only seven designated stops within the swamp--only seven groups may be in the swamp on a given night. Consider the skill level of individuals in your party before choosing a trail!

The swamp terrain is flat with only slight currents; there is no fast water and very little dry land. Your paddle will be used every inch of the way as you wind through cypress forests or cross open prairies exposed to the sun and wind. Paddling can be slow-going and strenuous on shallow and/or narrow trails. You may have to get out of your canoe and push across peat blowups or shallow water. Water levels in the Okefenokee Swamp sometimes become too low to paddle on certain trails; when this occurs reservation holders will be notified. Swamp conditions may dictate closing certain trails.
10 Easy Steps to Wilderness Canoeing in the Okefenokee Swamp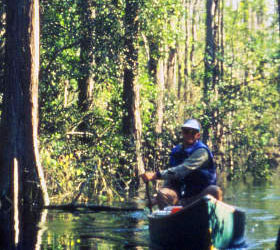 Read about how to make a reservation to obtain a wilderness canoe permit.


Decide on your 1st, 2nd, and 3rd choices of possible trips you would like to do after reviewing the trail descriptions and available trips.


Decide on two or three possible dates you would like to do your trip.


Read the rules and regulations for wilderness canoeing in the Okefenokee Swamp.


Call the canoe reservation line at 912-496-3331 from Monday-Friday 7am-10am excluding federal holidays to make your reservation.


Send in your payment and the required paperwork to the refuge.


Review the wilderness canoeing rules and regulations and the supplies list with everyone who will be canoeing with you, the trip leader.


Arrange for your supplies, shuttle providers, and rentals, if needed.


Arrive at your start point early in the morning, unload your gear and pack your boats. Remember you must be on the water before 10am to ensure you have enough time to reach your shelter.


Enjoy your adventure in the Okefenokee Swamp!



Special Note:

Some paddlers report that cell phones on the AT&T network appear to be able to get the strongest and most frequent signal in the swamp. However, cell phone coverage is limited at best in the swamp. Do not expect that you will be able to call and get help at a moment's notice. Plan ahead and be prepared to help yourself in case of an emergency.
Other Paddling Options
If you find that you are not able to get a permit to paddle in the Okefenokee Swamp or would like to add a few more days to your trip, there are some additional options. Consider paddling on one of the two rivers that flow out of the Okefenokee Swamp, the Suwannee River which flows to the Gulf of Mexico, and the St. Marys River which flows to the Atlantic Ocean. Note: You can paddle from the swamp directly into the Suwannee River, but to paddle the St. Marys River you must start outside the swamp.
Contact - Locations & Website Link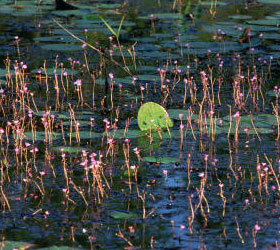 Phone: Okefenokee NWR Visitor Center - 912-496-7836 -

Address

: Okefenokee National Wildlife Refuge, 2700 Suwannee Canal Road, Folkston, GA 31537

The Okefenokee Swamp is located in Ware, Charlton, and Clinch Counties, Georgia and Baker County, Florida.

Link to Okefenokee National Wildlife Refuge website



Entrances to the Okefenokee NWR:


East Entrance - Camp Cornelia, Suwannee Canal (USFWS).

Secondary East Entrance - Kingfisher Landing (USFWS).

West Entrance - Stephen C. Foster State Park (USFWS and State of Georgia).

Secondary West Entrance - Suwannee River Sill (USFWS).

North Entrance - Okefenokee Swamp Park (Non-profit organization).
Loading

Okefenokee Info

Okefenokee National Wildlife Refuge

ADA Accessability

Okefenokee NWR Wildlife Observations

Okefenokee NWR Hunting

Okefenokee Photography

Okefenokee Boating & Canoeing

Okefenokee Hiking Trails

GA Coast & Islands
Printable Map
Check These Out:

NPS Coast and Islands

GA Coast and Islands

GA Coast Events

Coast Free Things To Do

GA Coast Fishing Lakes

GA Coast Museums