Georgia's premier trout stream, Dukes Creek, runs through this spectacular 5664-acre mountain property. It is a favorite for catch-and-release fishing.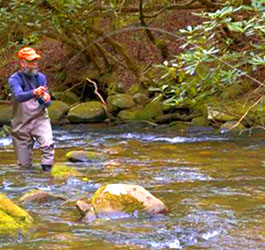 Park Amenities

- Five miles of trails and 18 miles of roads allow hikers and bicyclists to explore hardwoods, streams and wildlife. Smithgall Woods is an elegant mountain retreat perfect for family, friends and group getaways and retreats.



North Georgia's popular trout stream, Duke's Creek, flows through this mountain property

pioneer campground

lodge, 4 picnic shelters

visitor center

wildlife viewing stands

food plot

bird watching

Trout fishing on Wednesday, Saturday and Sunday only (daily for lodge guest). All visitors must register at the visitor center

hunting

environmental education activities

guided tours

22-mile bicycle and hiking trail - call to reserve first

wireless Internet available

van tours.
Overnight Lodging
5 Cottages, 3 Picnic Shelters, 2 Pioneer Camps - call 706-878-3087 to make reservations.
Hours and Fees

8 AM-6 PM / Monday, Tuesday, Thursday, Friday


7 AM-6 PM / Wednesday, Saturday, Sunday


Trout fishing on Wednesday, Saturday and Sunday only (daily for lodge guests).


Reservations required.


All visitors must register at the Visitor Center. -

$5

Parking Fee.
Contact, Address Driving Directions & Park Map
Phone -

706-878-3087 at 8 am - 5 pm


Campsites and Shelters Reservations:

1-800-864-7275


Address:

61 Tsalaki Trail, Helen Georgia 30545 -

Located

on GA Hwy 75-Alternate, 3 miles west of Helen Georgia , just south of the Richard B. Russell Scenic Hwy/GA Hwy 348
Reservations Cancellation Policy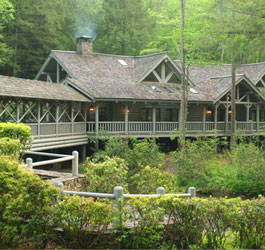 Cancellation of a reservation must be made at least 3 days prior to the date of arrival in order to receive a refund. A cancellation/handling fee per reservation will be charged. Changes in arrival date made less than 3 days prior to the scheduled arrival will constitute a cancellation and forfeit of the deposit. 7-14 day Cottage Reservation Guidelines: All cancellations received 30 days in advance will receive deposit refund minus the $10 cancellation fee per facility.

If a customer requests to cancel less then 30 days in advance but before 72 hours of arrival, the customer may request refund in witting to the site. If cottage is rebooked for the time period originally reserved, site will have Customer Service issue a full refund to the customer minus $10 cancellation fee. If reservation is cancelled within 72 hours of arrival date no refund of the one night deposit will be given. Deposits are required for all reservations. Credit card deposits are posted when the reservation is made.
Check-in

- Check-in is between 1 pm and 10 pm and check-out is before 1 pm. Campers must register and present a reservation confirmation before setting up. If you do not arrive on the first night of your stay, you will be counted as a no-show, your reservation will be cancelled, and you will forfeit your deposit.



Reservation Changes

(Changes in arrival dates, transfers, etc.)
You may make one change without a charge, provided a 3-day notice is given. Additional changes will incur a $10 per reservation handling fee.
Loading

Check Out:

State Park Waterfalls

State Park Fishing Tackle Loaner, Free Park Pass Loan and Jr. Ranger Gopher Badge Programs

Walk on the Wild Side