Georgia's premier trout stream, Dukes Creek, runs through this spectacular 5664-acre mountain property. It is a favorite for catch-and-release fishing.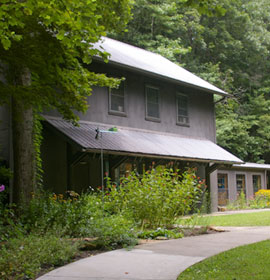 Smithgall Woods - Dukes Creek Conservation Area is a terrific place to go and enjoy a peaceful day outdoors. Take a day to smell the flowers and have an outing with your friends and family.

My husband and I visited during the weekend and saw families riding bikes together, lots of fishers and people laying on the greenspace basking in the sun.

The Visitor Center is located close to the entrance of this lovely state park. Right next to the center is a Red-Tail Hawk.

One of the largest and most common of hawks, it is often seen soaring or perched in a tree searching for prey. Red-tailed hawks vary considerably in color. However, most adults are brown with a red tail. A band of dark streaks forms a belt across the white belly. Rodents and rabbits are its main diet, along with birds, snakes and lizards.

There's a nice walking trail that starts just beyond the visitor center. It is ADA handicap accessible. Along the way, you are greeted by lots of smiling colorful flowers.

We were surprised to discover Bay Bridge. This covered bridge is dedicated In loving memory of 'Bay' Elizabeth Smithgall Watts. It is situated over Dukes Creek.

There is also a trail that leads to Dukes Creek Falls Waterfalls. The walk to this trail is a couple of miles. You can take this scenic walk, or drive up to Dukes Creek Waterfalls closeby and have a much shorter walk to it.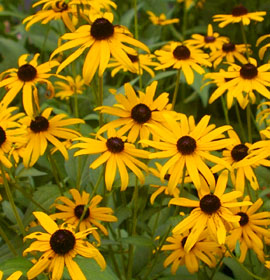 Park Amenities & Activities

- North Georgia's popular trout stream, Dukes Creek, flows through this mountain property

Pioneer Campground for youth groups only

2 picnic shelters

Visitor center

Wildlife Observation

Hunting

Archery

Bird watching

Trout Fishing – reservations required, catch-and-release only

Ranger Programs - reservations required

Environmental education activities

Guided Tours

Hiking and Bicycling – 23 miles of roads and trails, 5 miles of nature trails, most closed during scheduled hunts - call to reserve first

Wireless Internet

Nature Photography -- viewing stands and food plots

Visitor Center with Discovery Room

GeoCaching

Weddings (park approval required)
Hours, Fees, Contact, Address, GPS Location & Driving Directions

8 AM-6 PM / Monday, Tuesday, Thursday, Friday

7 AM-6 PM / Wednesday, Saturday, Sunday


Trout fishing on Wednesday, Saturday and Sunday only (daily for lodge guests).

Reservations required.

All visitors must register at the Visitor Center.

$5

Parking Fee.



Phone -

706-878-3087 at 8 am - 5 pm -

Campsites & Shelters Reservations:

1-800-864-7275 -

Address:

61 Tsalaki Trail, Helen Georgia 30545 -

GPS Coordinates:

N 34.691950 and W -083.767150 -

Located

on GA Hwy 75-Alternate, 3 miles west of Helen Georgia , just south of the Richard B. Russell Scenic Hwy/GA Hwy 348
This owl is on display inside the Visitor Center. More pictures will be added in soon. Return later this week to see a black bear, fox, bobcat, turkey and more.
This paved trail is long and easy to walk on. It starts out with a little uphill, then is mostly flat afterward. It is ADA accessible. The tall trees offer nice shading. There are many different types of pretty wild flowers along the way. There are also a couple of picnic shelters. Above, you see the honey bee homes on this path.
This is Bay's Bridge. Just in front of it is a memorial on a rock. It says 'In loving memory of 'Bay' Elizabeth Smithgall Watts 1941-1994. Professor of Anthropology Tulane University.' This pretty covered bridge sits over Dukes Creek. See more pictures of Bay's Bridge here.
This campsite is for youth groups only. There are 6 primitive sites spread out in this one area. Amenities here include a picnic shelter with grill, a fire ring, wood for fire and a vaulted toilet. Return later this week for more pictures of this area. This primitive campground is just past Bay's Covered Bridge.
Here's a picnic shelters along the path. This Indian Art is at the entrance of this park. See some of the visitor center that displays wildlife below.

Loading

Check Out:

State Park Waterfalls

State Park Fishing Tackle Loaner, Free Park Pass Loan and Jr. Ranger Gopher Badge Programs

Walk on the Wild Side