Check out the Fishing Tackle Loaner Program, Library Park Pass Program and the Junior Ranger Gopher Badge Program.
Fishing Tackle Loaner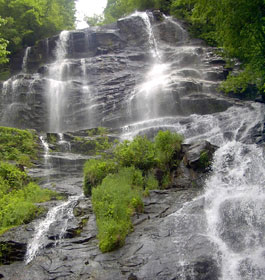 The Fishing Tackle Loaner Program (FTLP), developed by the Georgia Department of Natural Resources, Wildlife Resources Division (WRD) and Georgia State Parks and Historic Sites is funded through the Sportfish Restoration program and provides a way for budding anglers to try fishing without having to purchase any equipment.

The goal of FTLP is to remove the barrier of needing your own fishing tackle and to encourage fishing activities at Georgia State Parks and Historic Sites.

WRD provides rods, reels and tackle box equipment to participating State Parks and Historic Sites Offices. Interested visitors can inquire at the park office and check out the equipment for the day.
Library Park Pass Loan Program
Any Georgian who holds a valid library card can borrow a Georgia State Park "ParkPass" and Historic Site Pass from their local libraries. The passes are good for free parking or admission at any of the 63 parks and historic sites statewide for up to five days. Because of the expected popularity of the ParkPass loaner program, families interested in borrowing a ParkPass from their local public libraries are advised to plan early, as supplies of the ParkPass are limited. Contact your local library for more information.
Junior Ranger Gopher Badge
Children ages 6-12 will have fun learning in the outdoors as they work toward earning a Junior Ranger badge. By following the guidelines in the Junior Ranger Activity Book they will experience nature first-hand, explore Georgia's fascinating history and enjoy outdoor recreational activities. The experience builds as children work their way through three badge levels.

Free Junior Ranger Activity Books are available at all of Georgia's State Parks & Historic Sites - refer to our website to find the site nearest you. There are 63 sites statewide and a site within 50 miles of every Georgia resident. Check out the state parks. If you are not able to pick up your book in person you can download the book online in pdf format (1.6 MB). The Activity Books are not available by mail.

Junior Rangers can work through the activity requirements on their own or with the help of a parent or other adult. Some parks and historic sites offer Junior Ranger day camps or workshops, usually during summer. Click on "View Upcoming Junior Ranger Events" for a current listing of camps.

Also check out our new Get Outdoors Georgia Gopher Badge. Choose from a list of 16 different badge requirements that will get you outdoors and help you learn about nature. Kids age 7 - 10 must complete 5 activities and those aged 11 - 14 must complete 8 activities.

Click here to print the Junior Ranger Gopher Badge requirements to get started!
Loading

Check Out:

State Park Waterfalls

State Park Fishing Tackle Loaner, Free Park Pass Loan and Jr. Ranger Gopher Badge Programs

Walk on the Wild Side