This museum interprets the story of men and women who volunteered to fly and fight in the world's greatest airborne conflict.
Mission Statement
The WWII Flight Training Museum is a non-profit organization that is entirely funded by donations, grants, and contributions. It is dedicated to sharing the story of the courage and spirit of the American men and women who became pilots during the Second World War.

Our primary mission is to preserve, protect, develop, and advance the understanding of our nation's aviation training heritage through collections, research, exhibits, and interpretation of the 63rd Flight Training Detachment. Our secondary mission is to try to maintain the heritage and as much of the historical integrity of the Raymond-Richardson Aviation School as possible.
General Museum Information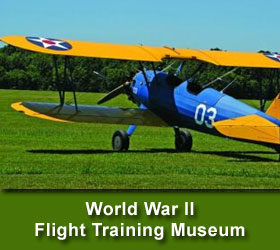 The museum is located on the most intact, independent and freestanding WWII Primary Flight Training School site remaining in the United States. Thirteen of the original buildings are still in place, including a 1941 barracks building that has been restored and converted into a museum and library. It is primarily dedicated to its role as a pilot training facility in World War II.

The World War II Flight Training Museum in Douglas tells the important and often unknown story of wartime military training. It represents one of the dozens of flight schools, bases, and airfields that sprung up to meet the wartime demand for combat pilots. These men were to fight in the skies over Germany and Japan during the world's largest airborne conflict.

Exhibits also provide examples of period military artifacts and home front memorabilia. Periodically, special displays and presentations are provided to feature specific aspects of this history.



Amenties:

Parking, Public Restrooms and Accessibility for mobility-impaired.



Admission

:

Free, but donations accepted.
Hours
Museum hours are 11 AM to 4 PM on Friday and Saturday.
Location and Website
Phone

: 912-383-9111 -

Address

: 3 Airport Circle, Douglas Georgia - World War II Flight Training Museum Website


Print a Magnolia Midlands Travel Region Map

Magnolia Midlands Fun:

Festivals & Events

Free Indoor Activities

Free Outdoor Activities

Tourist Centers

Travel Region Info