Georgia Magnolia Midlands Travel Region Cities Map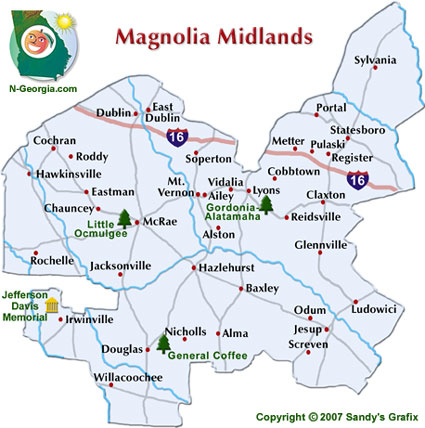 Magnolia Midlands Travel Region cities include: Abbeville, Alma, Alston, Baxley, Chauncey, Claxton, Cobbtown, Cochran, Dexter, Douglas, Dublin, East Dublin, Eastman, Fitzgerald, Gardi, Glennville, Hawkinsville, Hazlehurst, Helena, Irwinville, Jacksonville, Jesup, Ludowici, Lumber City, Lyons, McRae, Metter, Milan, Mt. Vernon, Nahunta, Newton, Nicholls, Ocilla, Odum, Oliver, Portal, Pulaski, Register, Reidsville, Rochelle, Roddy, Screven, Soperton, Statesboro, Sylvania, Vidalia, Walthourville and Willachoochee
Enjoy fun Festivals, Fairs and Events - See festivals, fairs, holiday, free and special events for this GA travel region. Event description, dates, contact number, address, hours and fees info.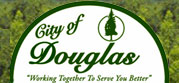 Visit the City of Douglas GA. Step back in time with our railroad, agricultural and aviation history. Take a guided tour of the Broxton Rocks. Stroll down the trail of the rare Gopher Tortoise at General Coffee State Park. Our historic downtown is known for unusual products, boutiques, antiques and restaurants with all kinds of food "just like Grandma used to make." Visit charming Douglas GA!
Visit Fascinating Museums and Art Galleries - See a variety of museums including the Altama Museum of Art and History, Dublins-Laurens Museum, Georgia Southern University Museum, Averitt Center for the Arts, Hazelhurst Historical Museum, Heritage Station Museum, The Soda Shop Gallery, Jones Creek Church Museum and more are featured here.
Rejuvenate yourself at Fishing Lakes - Refresh yourself and stay cool by visiting a Georgia lake. Many offer fun activities for everyone which includes fishing, swimming, boating, camping and nature hiking! Activities, contact info and locations are listed. Some lakes are public and others are individually owned. Some restrictions apply.
Discover Fun Free Things To Do Indoors - Activities include a fine arts gallery, museums, a center for wildlife, historic sites and a genealogical library and more. Great for family and groups.
Explore Fun Free Things To Do Outdoors - Visit a fish farm, lakes, local parks, forests, botanical gardens, nature trail, vineyard and winery, walking and driving tours and more.
Magnolia Midlands Travel Region Tourist Centers - Planning a trip or move to Georgia? Following, are local Chambers of Commerce, Welcome Centers, CVBs, and Visitor Centers that can send information and maps to your doorstep.


Print a Travel Region Map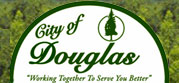 Visit charming Douglas GA!