Upper Chattahoochee River Campground General Information
Located high in the north Georgia mountains and far from civilization, this recreation area offers camping, horseback riding, picnicking, hiking, and fishing along the headwaters of the Chattahoochee River.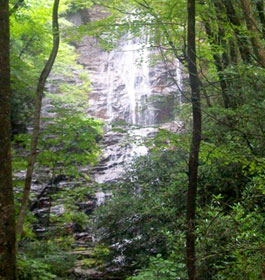 The Chattahoochee River Recreation Area has toilets accessible to people with disabilities. Drinking water is available. Each site is equipped with a picnic table, tent pad, lantern posts and grill. Accessible campsites are available at this area. A campground host resides here during a portion of the season. The Appalachian Trail is nearby, as well as Horse Trough Falls and the Mark Trail Wilderness Area.

Note

: Expect narrow, curving and steep roads to and from the area. Loop through recreation area is gravel. Camping fee is required.



Campground Amenities:

The drive up through the winding misty roads of North Georgia leading to this 34-site, developed campground is almost as breath-taking as the site itself. Although the drive leaves one feeling as if civilization has been left far, far behind, the ever popular and beloved alpine village of Helen, Georgia is less than a half hour away.

Horse Trough Falls is only a short walk from the main campground. Camping here, visitors can enjoy the pleasure of Georgia's number one vacation spot with shopping, dining, and entertainment in the city of Helen and recreational activities such as camping, hiking, biking, and fishing in the campground. Visitors should keep an eye out for the interpretive information available on the Chattahoochee River Watershed and how the river affects water usage for Georgia, Alabama, and Florida, posted upon entering the campground area.
Reservations

Reservations are not required. Campsites are on a first come, first serve basis.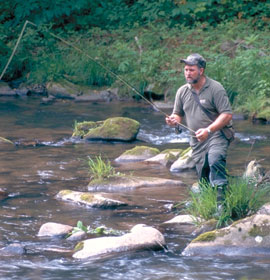 Camping Fees: Camping is $12 per site per night. Group Camping is $35 per night. There is a 30-person maximum for group campsite.



Permit Info:

Georgia fishing license and trout stamp required for fishing.



Open:

Mid-March though October 31. Open 24 hours a day and quite hours are 10pm-7am.



Restrictions:

The maximum stay is 21 days. Group Campsite is 30 persons maximum on site.



Closest Towns:

The nearest town is approximately 15 miles, or 25 minutes to Helen, Georgia. You will find restaurants, grocery stores, etc. there.



Water:

Drinking water is provided from two, centralized hand pump.

Restroom Facilities:

1 Chemical flush vault facility on site.



Passes:

The Interagency Senior and Access Passes and the Golden Age and Access Passports are accepted. These passes entitle the pass holder to a 50% discount on camping fees.

Operated By: Chattahoochee Management, INC. under permit by the US Forest Service
More Recreation Activities
Day Hiking

- Located near the rear of the campground visitors will find the Horse Trough Falls Foot Trail - This 0.2 mile leading to the stunning Horse Trough Falls and viewing deck where the beginning of the Chattahoochee River can be seen, provides an easy, short hike with a great payoff. This is a wonderful trail for seniors. Difficulty Level is Easy.



Horseback Riding

- Equestrian Trails


Picnicking

- Each camp site is equipped with a picnic table and grill.
Contact & Directions
USDA Forest Service, Chattooga River Ranger District office

-

Phone:

706-754-6221 or 706-490-1246-

Address:

9975 Highway 441S, Lakemont, GA 30552 -

Office hours:

Monday - Friday at 8-12 and 1-4:30 pm



Directions:

Take Georgia 75 north from Helen for approx. 8 miles. Just beyond mile marker 15 turn left onto the graveled Chattahoochee River Road and follow for 5 miles.

Georgia US Forest Areas

Camping

Hiking

Horseback Riding Trails

Fishing

Canoe Trails

GA US Forest Wilderness

Wilderness Preparation

Canoe Safety Tips

Forest Safety Tips

GA U S Forest History