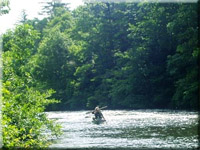 Toccoa River Canoe Trail Information
This trail starts at the Deep Hole Recreation Area and flows 13.8 miles to the take-out at Sandy Bottoms. You'll enjoy views of forested public lands, pastoral private lands, laurel and rhododendron thickets, and their associated wildlife.

Great fishing and some rapids make this a perfect canoe trip. This canoe trail is ideal for beginners and those who enjoy a less than vigorous float in a north Georgia Mountain River.

It is the only designated canoe trail in the Chattahoochee-Oconee National Forests. Open all year.

It is easy to moderate to use. This river flows 3 to 4 miles per hour.

The Toccoa River Canoe Trail Map





Road Conditions:

Paved and/or gravel all weather roads suitable for sedans.


Travel Time:

About one hour from the city of Blue Ridge to Deep Hole Recreation Area.


Recommended Season:

Anytime of the year. May - June are peak laurel and rhododendron blooms.



Restrictions:

None other than generally accepted social behavior.

Caution:

Fishing, camping and entering onto private land is illegal without ownership permission, as is fishing from the river in a boat, tube, or any other floating device where both sides of the river are privately owned. Camping in designated sites only at Sandy Bottoms take-out. Recommended take out points are on U.S. Forest Service public lands.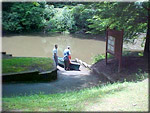 Deep Hole Canoe Trail


Directions to Deep Hole:

Beginning in the town of Blue Ridge, GA, take Georgia Highway 515 east for approximately 4.5 miles to the first traffic light, which is Georgia Highway 60. Turn right on Georgia Highway 60 and go 0.5 miles to old U.S. 76. Turn left and continue south on Georgia Highway 60 for 14.8 miles to Deep Hole Recreation entrance, which will be on the right.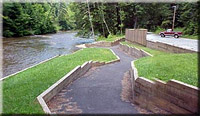 Sandy Bottom Canoe Trail


Directions to the Sandy Bottom Canoe Take-Out:

From McDonald's restaurant at the intersection on GA Hwy. 515 and GA Hwy. 5 north in Blue Ridge, follow GA Hwy. 515 east approx. 0.8 miles to Windy Ridge Rd. Turn right at Windy Ridge Rd., go 0.2 miles to dead end with Old U.S. 76. Turn left, go 0.2 miles to Aska Rd on right. Turn right, go south 8.5 miles on Aska Rd. Turn left, go across Shallowford Bridge, and turn right on Shallowford Bridge Rd. Go 1.3 miles to Old Dial Rd. Turn right on Old Dial Rd., go 0.6 miles to the Sandy Bottom Canoe Take Out on the right.
Loading
More GA US Forest Areas

Camping

Hiking

Horseback Riding Trails

Fishing

Canoe Trails

GA US Forest Wilderness

Wilderness Preparation

Canoe Safety Tips

Forest Safety Tips

GA U S Forest History