It is in an 1898 coastal artillery battery at Fort Screven circa 1875. The Tybee Museum has historical exhibits showing island life from colonial days and on through World War II.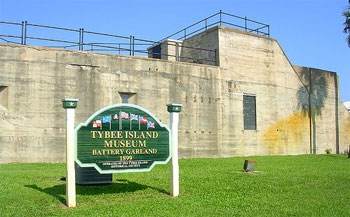 Exhibits - Located in Fort Screven, these original museum rooms housed gunpowder and 700 pound projectiles used in the huge cannon that once sat on top of the building to protect the entrance to the Savannah River.

Exhibits cover topics of local history. From the observation deck, view the old gun platform. The periscope in the gift shop area comes from a World War II submarine and provides a unique view of the adjacent Tybee Island Lighthouse.
Surfacing in a converted historic movie theater on the waterfront, the Museum is an attraction not to be missed! Get ready to see firsthand a working periscope, models of torpedoes, and many displays made from actual submarines.

See a deep-sea diving suit and submarine uniforms, command plaques, photographs and models of submarines, an area for watching movies on submarines, working sonar panels, a history of submarines, a reading area, a reference area, gift shop and a display dedicated to the eight submariners who received the Medals of Honor. Walls and walls of memorabilia track the history of the submarine.
Times & Dates, Phone & Address
Open Hours:

9am-5:30pm, Wednesday through Monday -

Note:

The last tickets for tours are sold at 4:30 pm -

Visit Time:

30min to 1 1/2 hours -

Cost

: Call for Price -

Payment Types:

VISA, MC -

Phone

: 912-786-5801 -

Address

: 30 Meddin Dr., Tybee Island Georgia 31328 -

Located

off U.S. Highway 80
Loading

Visit:

Coast and Islands National Parks

Georgia Coast - Islands

GA Coast Events

Coast Free Things To Do

GA Coast Fishing Lakes

Georgia Coast Museums

Georgia Coast Shopping

GA Coast and Islands Map & Travel Region