This 1895 covered bridge, also known as Sautee-Nacoochee, Helen Bridge and Chickamauga Bridge was built by Wil Pardue. Historic marker, picnic area, Chickamauga Creek and parking available for free at this historic bridge.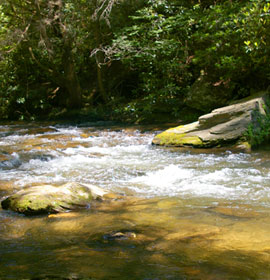 Bridge Description: This bridge was built in 1895 by Will Pardue. It is 36.8 feet long with queen-post truss. It has a parking area, picnic area and historic marker. It is at Chickamauga Creek. It was also known as Sautee-Nacoochee, Helen Bridge and Chickamauga.

Located in an area of White County, rich in history and legends of the Cherokee, Stovall Mill Bridge spans Chickamauga Creek. This is not to be confused with the more famous northwest Georgia Creek of the same name. An earlier covered bridge stood here but was washed away in the early 1890's. The bridge retains the name of the miller, Fred Stovall, Sr.; who operated the mill complex for many years.

The gristmill, sawmill and shingle mill were powered by a water turbine. All are gone now; only the remains of the dam are evident. - From "Covered Bridges of Georgia" by Thomas L. French, Jr. & Edward L. French.

It is said that this bridge is haunted. Standing on the bridge at night, you can hear the cries of unseen babies and the sounds of horse-drawn carriages.



Free parking and admission.

This is a wonderful place to relax, have a picnic, cool off in the rushing water and enjoy the beautiful northeast Georgia mountains.

Watch a video below of Stoval Mill covered Bridge, Chickamauga Creek, and more.
Stoval Mill Covered Bridge Marker - Fred Dover constructed a bridge and nearby grist, saw and shingle mill complex here in the late 1800s. The original bridge washed away in the early 1890s and Will Pardue replaced it in 1895 witht he present 38-foot structure. Dover sold the operation to fred Stovall, Sr. in 1917. The mill and dam washed away in 1964. Constructed as a modification of the queen post truss design, the bridge's trusses have two vertical posts (with iron rods) separated by a horizontal corsspiece. The bridge was featured in the 1951 movie, I'd Climb the Highest Mountain, starring Susan Heyeard.

Erected by the Georgia Historical Society, Georgoa Department of Transportation, and the Federal Highway Administration

This bridge is a near numerous attractions in the Georgia mountains area, and is worth the trip. This bridge appeared in the 1950's movie I'd Climb the Highest Mountain starring Susan Heyward.



Directions:

From Atlanta, take I-85 north to I-985 north, to Hwy. 23 west, to Hwy. 17 to Sautee, then go 3 miles north of Old Sautee Store on Hwy. 255.

See the video below.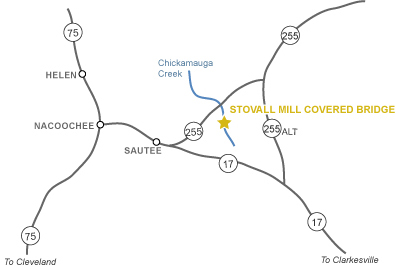 Loading


Print a NE GA Mountains Travel Region Map

NE GA Mountains Fun:

Festivals & Events

Free Indoor Activities

Tourist Centers

Travel Region Info

Georgia covered bridges online map.

Georgia covered bridges printable map.


Georgia Covered Bridges