The Sanctuary

- The church trustees purchased the present lot in 1771. Several wooden structures and a single story brick church preceded the present building, constructed in 1878. After the installation of the magnificent Ascension window in 1879, the congregation's name was used for the first time.

The present interior, basically the same since then, has been renovated several times. Between 1921 and 1936, six windows depicting the life of Christ were given as memorials.

On the front of the marble altar you'll find a copy of DaVinci's Last Supper; above the altar is an open Bible and a chalice which reminds us that the basis of the Lutheran Church is word and sacrament. The window on the back wall shows Martin Luther before the Diet of Worms.

The Cassavant organ in the balcony was dedicated in 1983 and the internationally known Lutheran musician, Dr. Paul Manz, played the dedicatory recital.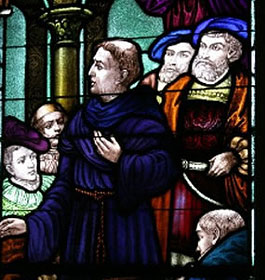 Crumley Hall - As you enter from Bull Street, before you is a copy of the statue of Christ by Thorvaldsen. Beyond this is Crumley Hall, a gathering place for our congregation. Crumley Hall is named in honor of Rev. James R. Crumley, a former pastor who became Bishop of the LCA (Lutheran Church in America) - now the ELCA.

The hall is used for meetings, receptions, and Sunday School Classes. It also contains dioramas of the history of the congregation.



Captain Butler's Retreat

- Given in the 1960's by Mrs. Vergel Eyler Butler, in honor of her husband, the late Captain Charles J. Butler, this beautiful waterfront retreat on Whitemarsh Island is just 15 minutes away from our historic church building, and provides a great place for everything from restful reflection to joyful celebrations like Vacation Bible School and our annual Oktoberfest.



Amenities:

Public Restrooms and Accessibility for mobility-impaired.

Free admission.
Contact - Address - Hours & Website
Phone

: 912-232-4151 -

Address

: 120 Bull Street, Wright Square, Savannah Georgia 31401


Hours:

The church is open 7 days a week for visitors. Call for more info.

Lutheran Church of Ascension Website
Loading
Visit:

Coast and Islands National Parks

Georgia Coast - Islands

GA Coast Events

Coast Free Things To Do

GA Coast Fishing Lakes

Georgia Coast Museums

Georgia Coast Shopping

GA Coast and Islands Map & Travel Region