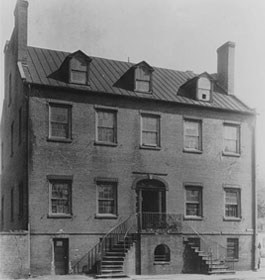 The home was a residence for his household as well as a showplace for his quality work. Isaiah lived in the home with his family until his death from yellow fever in 1827.

Sarah Davenport was able to keep her family's home until 1840 by renting out the skilled labor of her slaves and renting out rooms after the death of her husband. When she sold the Davenport House, she moved to another residence in downtown area and opened it as a boarding house.By the early 20th century, the Davenport House had become a tenement, housing as many as 10 families in its rooms.

Savannah's city market building was demolished in 1954 and the Davenport House was slated to be torn down in 1955 in order to make room for a parking lot for a funeral home that was located across the street.

Seven prominent Savannah women did not want to lose another historic building, so they banded together to raise the $22,500 needed to purchase the house. Saving the Davenport House from the wrecking ball was the founding act of the Historic Savannah Foundation.

The house was used as office space until enough money could be raised to restore it. It opened as a museum in 1963 and underwent a second restoration in 2000-03 in order to return the house to its original 1820s state.
Architecture
The Federal style of architecture was based upon the work of a Scottish architect named Robert Adam, hence the style is also called Adam style. Adam was a prominent architect during the 1760s and 1770s in England. He was inspired by Roman ruins in Italy, by their colorful interiors and different shaped rooms, as well as the decorative motifs using urns, garlands and sheaves of wheat. Adams used many of these things in his reserved exteriors and classical fireplaces.

The style was called Federal because the leaders of the young United States of America favored it. The houses built in this style were two rooms deep, rectangular in shape, symmetrically placed and contained a central hall with flanking rooms.

The Davenport House has been described as "one of the finest examples of Federal architecture in America" (p. 46, J. Berendt, Midnight in the Garden of Good and Evil).

The Davenport House is on the National Register of Historic Places and was surveyed in the 1930s by architects with the Historic American Buildings Survey (HABS); those drawings are housed in the Library of Congress and can be accessed on the internet.
Contact - Address & Website
Phone:

912-236-8097 -

Address

: 324 E State St., Savannah Georgia 31401
Loading
Visit:

NPS Coast and Islands

GA Coast and Islands

Georgia Coast Events

Coast Free Things To Do

GA Coast Fishing Lakes

Georgia
Coast Museums

Georgia
Coast Shopping

GA Coast and Islands Map & Travel Region