This 3.4 mile trail is suitable for ORVs, ATVs, mountain bikes and hiking. It offers a challenging and safe riding experience with many sharp curves.
Rocky Flats OHV Trails - General Information
OHV Trail Riding

- This 3.4 mile trail is suitable for ORVs, ATVs, 4-wheel drive vehicles, mountain bikes and hiking. It follows a multi-purpose woods road over piney rides and through hollows of oak and yellow poplar forest. View timber stands in various states of development. Openings in the forest canopy offer vistas of grassy Mountain. A fee is required to ride on this trail system. About 2.8 miles of the road on the eastern side is open to mixed traffic. Trail also utilized for Mountain Biking and Day Hiking. The closest town is Chatsworth, GA.



Note

:

Due to a flood-damaged sinkhole at the gate, Rocky Flats is currently closed.

Will notify you here when it is re-opened.

There is

no charge to ride on this trail

system.

Helmets are required for motorbikes by State law. Children under 16 must be accompanied by a licensed driver. The consumption of alcohol while operating any type of vehicle is strictly prohibited according to State and Federal law. Also used for Mountain Biking and Day Hiking.


OHV Length:

3.4 miles -

Open:

Open daily all year.

No water or restroom facilities
Contact & Directions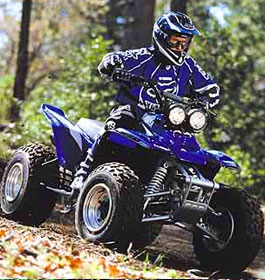 USDA Forest Service, Conasauga Ranger District office -

Phone:

706-695-6736

Address:

3941 Highway 76, Chatsworth, GA 30705

The Conasauga Ranger District covers the western third of the Chattahoochee National Forest. A diverse set of landscapes make up the Conasauga district, from the ridges and valleys west of Interstate 75 to the Cohutta Mountains northeast of Chatsworh, GA. This part of the forest offers some of the best scenery and outdoor recreational activities in north Georgia.



Chattahoochee-Oconee National Forests

-

Phone:

770 297-3000 -

Address:

1755 Cleveland Highway, Gainesville, GA 30501 -

Office hours:

Tuesday - Friday at 9 - 12 & 1-4 - Closed Saturday, Sunday, and Monday



Directions:

Take US 411 north from Chatsworth about 6 miles. Turn right on Grassy Street and proceed across the railroad tracks to the T-intersection. Turn right, go about 300 feet and turn left onto Forest service Road 630. Travel about 4 miles to 2nd Rocky Flats Road sign and turn right. Limited parking available across the creek.



Directions From Crandall, GA:

Go east on Mill Creek Rd, FS 630, about 4 miles to Rocky Flats.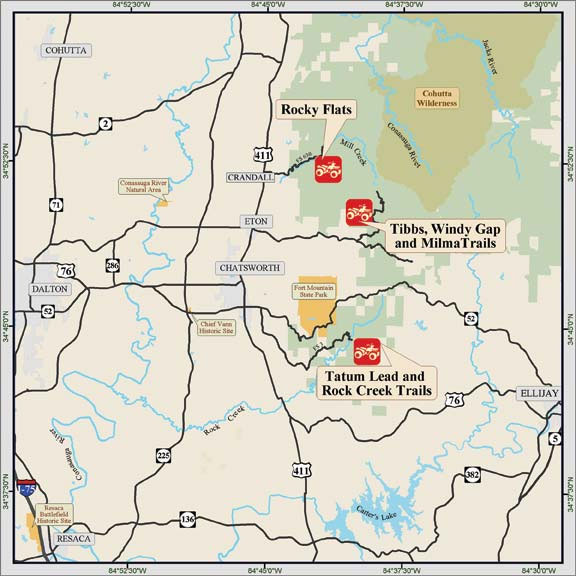 Multiple ORVs Vicinity Map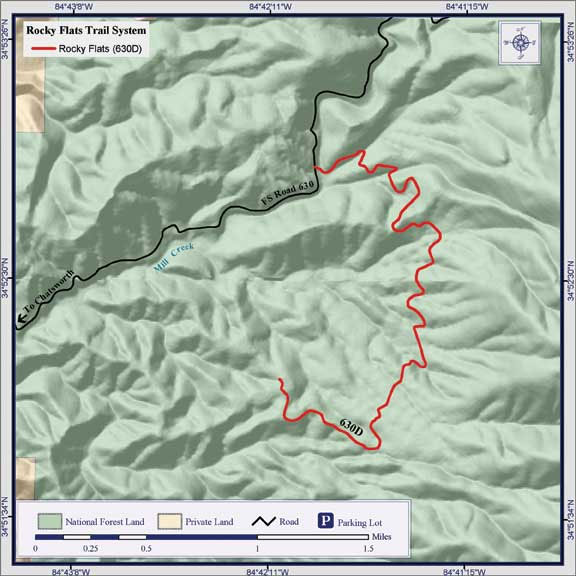 Multiple ORVs Vicinity Map

More GA US Forest Areas

Camping

Hiking

Horseback Riding Trails

Fishing

Canoe Trails

GA US Forest Wilderness

Wilderness Preparation

Canoe Safety Tips

Forest Safety Tips

GA U S Forest History