Oglethorpe Square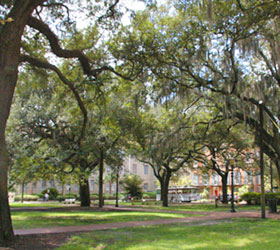 This square is on Abercorn Street between State and York Streets. It was laid out in 1742 and named for the founder of Georgia, James Edward Oglethorpe. In its earliest days it was referred to as "Upper New Square."

On the East side of this square there is the Owens-Thomas House, which many feel is the finest example of Regency architecture in the United States. Originally the Unitarian Church, now the Baptist Center (Jingle Bells Church), sits on the square. On the Sourthwest corner is the Urban Health Center, originally built in 1907 as the Marine Hospital.

Moravian Marker - Oglethorpe Square

In 1933, in the northeastern section of Oglethorpe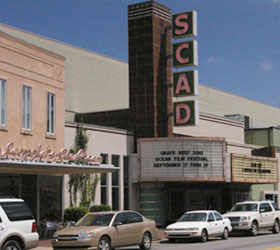 Square, a granite pedestal about four feet, shaped like a fluted column, with an inscribed bronze tablet mounted on a tabloid, saying: "In Memory of the Moravian Colonists in Savannah 1735-1740 who Maintained a mission to the Indians, This memorial is presented to the City of Savannah by the Wachovia Historical Society of Winston-Salem, NC" was erected.

The Moravians are members of a Protested sect founded in Saxony (formerly a portion of Southeastern Germany). The Moravians immigrated to Savannah in 1735 to create a mission among the native Americans. The original mission site in Savannah was located on Broughton and Habersham Streets.

Due to the war with Spain, they left Savannah in 1740. Subsequently a moravian settlement was established in Pennsylvania.
Orleans Square
This square, located on Barnard St., between Perry and Hull Streets, was laid out in 1815 and named to honor the heroes of the War of 1812. The German Societies placed a fountain and benches in this square in the late 1980s.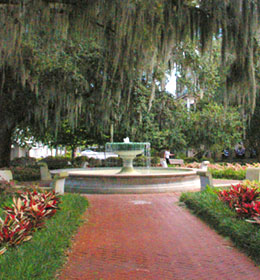 The house with the massive columns on the East side of the square was built in 1844 for Aaron Champion. It is known as the Champion-McAlpin House which is owned by the Society of Cincinnati in the state of Georgia. Across the square is the Civic Center, completed in 1970.

Monument: The German Memorial Fountain
An ornamental fountain which commemorates the early German Immigrants to the colony of Georgia was established in Orleans Square in 1989. The five-foot fountain, composed of a cast iron basin decorated with leaves and frogs atop a cast stone pedestal finished in granite was created by Cut Art Stone Company. It stands in a circular reflecting pool. The monument was erected by the German Heritage, German Friendly and Georgia Salzburger Societies.

This is one of several memorials inspired by the 250th anniversary of the founding of the colony of Georgia and the city of Savannah. This one was also inspired by the tricentennial anniversary, 6 October 1983, of the arrival in Philadelpha of thirteen weavers and their families from the Rhineland, aboard the Concord.

The ground breaking ceremony, the first celebration of German-American Day in Savannah, was held 6 October 1988. The fountain was dedicated on the same date in 1989.
Loading


Colonial Coast GA Travel Region Printable Map

GA Coast & Islands Fun:

Festivals & Events

Free Outdoor Activities

Tourist Centers

Travel Region Info