This cemetery is significant as a visual record of African American history in Savannah. In 1852, fifteen acres of the Laurel Grove Cemetery were set aside for the burial of "free persons of color and slaves."
Laurel Grove-South Cemetery History
The cemetery was historically separated from the white Laurel Grove-North Cemetery by what is now Highway 204. Tombstones range from small markers with little or no ornamentation, to monumental markers with elaborately carved figures. Inscriptions on many of the tombstones record African American history not included in written histories of the region.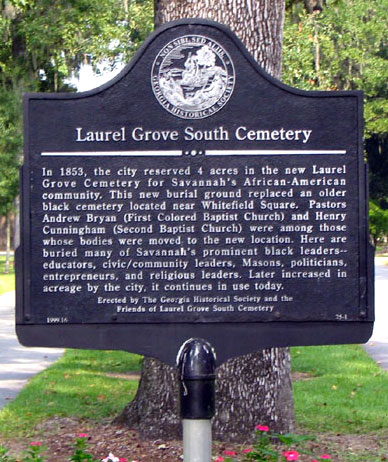 In 1853 four acres were set aside at Laurel Grove Cemetery for African American burials, and many graves were moved from the earlier cemetery. In 1857, an additional 11 acres were reserved, and in 1859 the city council increased the size of Laurel Grove South to 30 acres and built a caretaker's house.

The earlier cemetery, which is labeled "Negro Ground" in the map of 1818, lay well beyond the southern edge of the city, and was reflective of the closeness of earlier generations to their African roots with the tradition of placing on the graves objects the deceased had used during their lifetime. Laurel Grove South Cemetery with its vaults and tombstones in the European manner reflects the waning of traditional African custom and the acceptance of the dominant Euro-American conventions of vaults and tombstones.

However, earlier African traditions are still retained to some degree in small towns and in rural areas in parts of the Deep South. Some of the bodies in the earlier cemetery were removed to Laurel Grove South. The custom of using wood markers means that they soon deteriorated and eventually disintegrated. Therefore many graves would no longer be marked.
The first major movement to preserve the history of Laurel Grove South was in 1931, when the cemetery was cleaned up. In 1958, after prominent black Savannahians again mobilized to preserve Laurel Grove, the Savannah Sugar Refinery presented wrought iron gates to the city for the cemetery, and the city itself spent $3000 to clean and renovate the site.

According to Charles Elmore, in the early 1970's, W.W. Law "almost singlehandedly led the movement to improve Laurel Grove Cemetery South, and identified historically significant grave sites which led to the City of Savannah maintaining this venerable cemetery in a dignified manner by providing street names and markers to make it easy for citizens and historians to identify various burial places." Despite these efforts, time and weather are taking their toll on the headstones, ironwork, and brick.



Culture


Although there are dozens of African American cemeteries in Chatham County, Georgia, Laurel Grove South is the most significant final resting place for African Americans who died in the 19th and 20th Centuries.

While slavery was still legal, there were more free African Americans interred in Laurel Grove South than any other cemetery in the Southeast. The cemetery is now 90 acres in size with the main entrance at 2101 Kollock Street at the west end of 37th Street.

The cemetery serves as a culturally and historically significant site for African American religion, education, civil rights and business. While there are many fine specimens of Victorian-style cemetery structures, most of the graves in Laurel Grove South are simply unmarked. The cemetery is a public park-like open space with massive cypress trees towering from its wetlands.



Hours & Fees


It is open to the public daily from 8 am to 5 pm.

Free admission and parking.





Phone Number

912-651-6772 -

Address:

2101 Kollock St, Savannah, GA 31415

Check These Out:

Festivals & Events

Free Outdoor Activities

Free Indoor Activities

NPS Coast and Islands

GA Coast and Islands

Georgia Coast Events

GA Coast Fishing Lakes

Georgia Coast Museums

Map & Travel Region

Colonial Coast GA Travel Region Printable Map