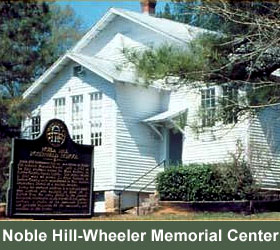 This cultural center housed in the first North Georgia school specifically designed for the education of black children.



The Noble Hill School is located in Cassville, a northwest Georgia community. This wooden building was the first Rosenwald "Community School Plan" building constructed in Bartow County.

Noble Hill was built through partnerships, as African Americans, whites, the Bartow County Board of Education and the Rosenwald Fund contributed financial and human capital to provide an elementary school education to local students.

When Noble Hill opened in 1924, African Americans contributed 47% of the building costs, and 33% was provided through the Rosenwald Fund.



Amenities:

Restrooms, Accessibility for mobility-impaired and Party Facilities.



Free admission and parking.





The Noble Hill Rosenwald School before rehabilitation.


At Noble Hill, students sat at wooden desks in the two classrooms distinguished by tall banks of windows that provided maximum sunlight. Noble Hill had an industrial training room, two cloakrooms, and separate vestibules leading to the two classrooms. Wood stoves provided heat in the winter, and there were no indoor bathrooms. The Noble Hill curriculum offered classes through the seventh grade in reading, mathematics, spelling, English, history, writing, and industrial arts.

School enrollment steadily increased to nearly 100, as Noble Hill absorbed students who were attending school in African American churches and lodges. In 1955, the county consolidated Noble Hill and these schools to form the Bartow Elementary School, and Noble Hill closed, standing vacant for over 25 years.
Dr. Susie Wheeler was an early graduate of the Noble Hill School. While in school she was so impressed by her teachers that she would later aspire to become an educator. Eventually she returned to Bartow County as a teacher, Jeanes supervisor, and curriculum director. In 1983, Dr. Wheeler worked with her sister-in-law, Bertha Wheeler, to donate the school and land to the Noble Hill-Wheeler Memorial Center. With this act Dr. Wheeler began a 5 year effort to achieve her dream of preserving Noble Hill and reopening it as an African American heritage museum.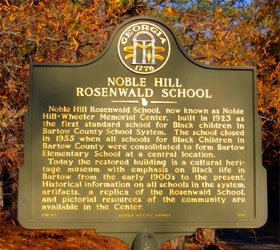 Exhibits on display at the Noble Hill-Wheeler Memorial Center educate visitors about the history of the Rosenwald school.

Dr. Wheeler recruited a group of trustees who successfully saved the school by raising over $200,000 in private donations, including a planning grant from the National Trust. The trustees included former Noble Hill alumni and Georgia Supreme Court Justice Robert Benham, a native of Bartow County. The Georgia State Historic Preservation Office provided technical assistance and a $3,000 grant was awarded through the Governor's emergency fund and the Georgia Humanities Council. Noble Hill was listed in the National Register of Historic Places on July 2, 1987.



Today

, the Noble Hill-Wheeler Memorial Center operates as a heritage museum. In one of the school's old classrooms, visitors are educated about African American life in northwest Georgia during the Depression era. The other classroom is used for community meetings. Wooden desks and memorabilia help educate visitors about the museum's former use as a school. Outside the museum, visitors can have lunch in the picnic area while viewing the historical markers and landscape.



Museum Hours of Operation

- Tuesday through Saturday from 9 a.m. to 4 p.m.



Phone:

770-382-3392 –

Address:

2361 Joe Frank Pkwy., Cassville Georgia 30123 - Directions from Atlanta: Go north on I-75 to Exit 293. Go south on US 411, then north on US 41. Go past the exit to Rome approximately 1.5 miles to traffic light. Museum is on the left just beyond traffic light.
Read expert dating reviews of Eastern European and Ukrainian sites, Latin Americanand Asian dating sites as well as North American sites. Foreign Singles Finder has up to date reviews as well as informational articles to help you decide which sites are the most suitable for finding the soul mate you are looking for.


Print a Travel Region Map
More Historic High Country Region Activities

Festivals & Events

Free Indoor Activities


Free Outdoor Activities

Tourist Centers

Travel Region Info